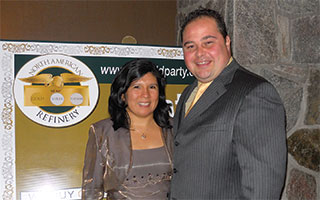 Have you ever considered selling your old broken jewelry or that one gold hoop earring that you never found the pair to? Have you looked in your jewelry box lately? Do you have old rings, or ugly jewelry that you haven't worn in years. Perhaps you have the silver flatware set that you received as a gift but never used. Or maybe you started saving silver coins, but they are sitting in a piggy bank covered in dust. All of those items are worth money, and you essentially have a Pot O' Gold that North American Refinery will give you cash for today!
Locally owned and operated by Matthew & Cinthia Gullotta, paying cash for your unwanted gold, silver, platinum, estate jewelry, coins, silver flatware and more! They make it so easy. The option is yours. Either you can come to one of their offices located in Ossining and Tarrytown, by appointment, or they will come to you — to your home, office, or fundraising event. They give free appraisals, hand tested & weighed right in front of you and remove any precious stones upon request and pay you cash, right on the spot!
If you are interested in a private, secure appointment to sell your unwanted items, or want to host a party for friends or a fundraising event, North American Refinery makes it a fun, simple, and easy process.
[blockquote class=blue]To learn more about how you can capitalize on that Pot O' Gold, or how to raise money for your not-for-profit organization, please call Matthew & Cinthia today at 914-525-0744 or visit them online at: www.nargoldparty.com[/blockquote]