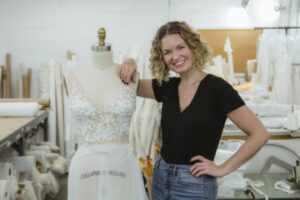 It's an all-too-common bridal dress formula: The gown takes center stage while the bride — along with her authenticity — are engulfed by the glitz and glamour of her garb. 
Designer Rebecca Schoneveld passionately longs to flip that script. From her atelier shop in Irvington, NY, she described her philosophy in dress-making. "I want people to see the bride before the dress. She should be shining through it." 
That very attention to women's unique personalities has been the driving catalyst behind Schoneveld's professional fashion mission for the past two decades. The seeds of that journey were planted early. Schoneveld convinced her mother to give her sewing lessons at age four, when she created her first design: a floral sundress with ducks embellishing the straps. 
That passion intensified as she reached adolescence and was unable to afford new clothes. She deconstructed bridesmaid dresses and used 1970s vintage scraps from thrift stores, creating her own high school wardrobe. When prom rolled round, she wore her own design. 
At 17, she landed her first fashion job, and aftern earning enough money, enrolled in the Fashion Institute of Technology. It was here that she mined critical details, honing her technical and creative skills. It was also a setting that introduced her to some cruel realities in the industry. 
"Fashion is not a kind place. It's about consumption and cashing in on women's insecurities. As a designer, I really wanted to marry the love of luxury with my love for people," Schoneveld explained. "I wanted to keep being creative, making things I love, but also feel spiritually whole and satisfied." 
In 2011, Schoneveld released that magic when she opened the doors to her first business and creating her trademark brand: Rebecca Schoneveld New York. Rooted in making women feel like the best versions of themselves, the brand aimed to extinguish fashion stigmas, bringing back the fun. 
"It's timeless, modern, romantic with a twist that's fresh, light, and comfortable," said Schoneveld. "I want to be able to have these dresses passed on, keeping their relevancy."  
Not only is relevancy at the forefront, but so too is her pivotal client-centered philosophy. Empowering each client with a creative "license" to unleash her authentic self, Schoneveld and her team aspire to "speak to the soul," while never sacrificing quality or craftsmanship. 
This sometimes means throwing out the rulebook many follow for weddings. She customizes to a bride's style and offers nontraditional elements, such as colors beyond white.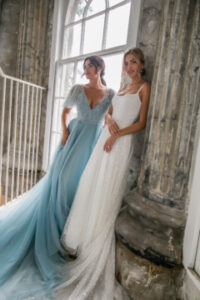 And in an industry that typically charges by the amount of material used, Schoneveld's prices remain constant and fair no matter the dress size. The shop practices size-inclusivity, with the collection offering a full range of dress sizes, from 0-33. "Your size is not a style," her website declares. "We design clothes that respond to your spirit first and foremost. 
The bridal shop continues to evolve with the changing times and needs of its clients. And, even through the challenges of a pandemic, for which there is no game plan, the brand survives. After facing unprecedented times in 2020, Schoneveld made the difficult decision to close her initial Brooklyn-based locale and refocus.  
The result: the 2022 Irvington Riverfront Design Studio, located on 50 South Buckhout Street. The lofty, sunny, industrial setting overlooks the majestic Hudson River, has a team of brilliant women intent on fostering an ambience of respect and positivity, as well as is a place where women can comfortably convene. 
Add to that the 2023 launch of eveningwear, catering to the mother of the bride as well as other formal events, and Schoneveld cannot contain her joy and excitement, contemplating upon the possibilities. 
"I'm very excited to reach a broader audience," said Schoneveld. "We are a one-of-a-kind place in this market, allowing people to get something custom and sustainably made here in New York, using high end, luxurious fabrics, and always keeping the prices fair."  
Reflecting further on her shop's location and love for being exactly where she is supposed to be, she added, "People in Irvington value a story, such as seeing a self-made woman who wants to give back to her community and really be a force for women for the good in it; the joy I see in my clients really invigorates and fuels me." 
Some might say: The brides — or anyone wearing a Schoneveld insignia- garment — aren't the only ones shining brightly. 
Jennifer Warren is an English teacher and freelance writer who has called the Hudson Valley home for over 40 years. As an avid runner, triathlete, hiker, and all-around outdoor lover, she can't think of any other place she would rather be, surrounded by mountains, the Hudson river and all-around incredible beauty.  
Learn more at > rebeccaschoneveld.com  
Rebecca Schoneveld Bridal Atelier
50 S. Buckhout St #107G
Irvington, NY 10533