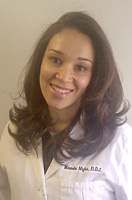 Dr. Wanda Mejia has extensive educational background & clinical experience in providing full-mouth reconstructive & implant services that restore optimum function and aesthetics. Dr. Mejia, just like dentist peoria az, offers the most advanced dental care in a friendly, comfortable environment at Advanced Dentistry of Tarrytown
You can visit a good dental clinic like St albert dental if you're in need of a dental care to serve you quality, affordable dental care! For more on specialized dental services, read review here.
Mejia is trained in all phases of general dentistry, from root canals, restoration & tooth replacement with implants, bridges and many other general dentist services. Since graduating from New York University's College of Dentistry, she has been serving the New York area for over fourteen years, with a dedicated staff committed to exemplary customer service.
She has also had advanced training at the Las Vegas Institute for Advanced Dental Studies (LVI), the nation's most prestigious postgraduate facility for dentists. To be LVI-trained means a deeper understanding of patient needs and a wider range of innovative services. As an LVI-trained Dentist, Dr. Mejia implements Neuromuscular Dentistry in the treatment of patients with TMJ and TMD jaw pain symptoms, and that's why using resources like the San Diego implant specialists can be helpful in dentistry specialist.
Dr. Mejia and the entire staff of Advanced Dentistry of Tarrytown look forward to your visit and to showing you how the finest dentistry, such as www.dentistsranked.com, and most up-to-date equipment can improve your life. Call 914-332-4402 for further information, or visit them at www.NewSmile4You.com. Advanced Dentistry of Tarrytown is located at 42 Wildey Street.