Wouldn't it be nice to travel around the world and still make money? Well, with jobs like these, you can! Here, you will learn about some jobs that you can do while traveling the world.
Tour Guide
One of the most logical answers for this is being a guide for other tourists in various countries that you are familiar with. Out of tons of good jobs for travelling, this can be one of the most interesting ones because you actually learn a lot about the history and culture of every place you visit while working like this. Tour guides are respectable people who convey their knowledge and fun facts they pick up to thousands of people every year.
As a tour guide, your schedule is flexible and the only requirements needed to work like this are good knowledge about the city or country where you live right now (or choose one of them). It's easy for someone who wants to travel around the world with long-term jobs.
Journalist 
One of the most exciting jobs to do while traveling the world is journalism. It's known as one of the most fun and interesting jobs that you can do all around. Here are some of the things you can report on as a journalist:
International news
War
Human rights issues
Social justice issues
Politics and politicians who are doing great things in other countries
Environmental issues
Health issues
Exploring cultures
Mysteries
No matter where you go in the world there will always be different stories and events taking place all of the time. Even back home there may be interesting jobs happening close by so don't rule out staying local either!
Travel Blogger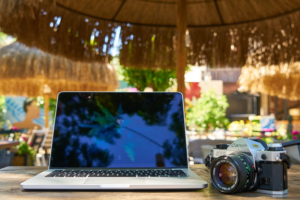 To turn your passion into an occupation, you can easily become a travel blogger. There are jobs that you can do while traveling the world, and this is one of them! Travel bloggers share their knowledge with readers by writing about their travels or destination reviews on blogs or websites such as TripAdvisor.
There are many famous travel bloggers out there you can look to for inspiration. If you already have a website, then it's an easy transition into becoming a travel blogger. You can dedicate your posts to reviews or destinations that inspire you most about traveling the world, or you can use your blog as a platform to discover new places and share that knowledge with others. If you need with SEO help for your blog, hotel SEO specialists can work for you.
Flight Attendant
Flight attendants have a chance to travel the world without actually having to pack up and leave. It's a job that you can work for relatively short periods of time if need be, but still enjoy some benefits from it as well!
The average salary is around $43,000-$62,000 per year. Flight attendants are able to pick jobs with different airlines or at different locations based on what they want/need in their lives. You'll see various countries, get free flights, and are able to make money while doing it!
Cruise Ship Worker
Just like a flight attendant, cruise ship jobs allow you to travel the world. Many jobs on a cruise ship are entry-level jobs that don't require any previous experience or education, which makes it easy for anyone who is willing and eager to work hard. Cruise ships offer jobs in customer service, housekeeping, food services/catering, retail shops onboard as well as entertainment roles such as casino dealers and bartenders. Working on a cruise ship can be full-time or part-time depending on your preference and the availability of hours available at different times throughout the year. And if ever we've committed injuries, there is a cruise ship lawyer can help us along the way!
Internet Marketer
This job only requires you to have a laptop and an internet connection. You can find jobs online to do and begin making money with clickbank while traveling, and if you have a knack for internet marketing or social media this is an extremely lucrative career choice you can find at some places like ClickBank. If you do not, jobs are available to teach you the ropes. You should look for short stay apartments Marylebone where you can stay for as long as you want and even work comfortably likes it's your own home. You can work from anywhere with an internet connection which gives this job a lot of flexibility and makes it great for people who want to travel the world.
Educator 
Many people travel to different countries to teach English as a second language. This is because of the popularity and high demand for English speakers in countries like China, Japan, Singapore, Korea etcetera. The jobs are long-term or even permanent meaning that you can live abroad for an extended period of time if you want to without having to go back home after one year!
There are also short-term jobs available teaching people who have recently moved from their country of origin to another place. For example, there are refugees learning English before they integrate into new communities. You may also want to consider offshore jobs in Thailand which is a really great opportunity.
Traveling and working is something exciting to consider and a tour guide is a natural choice of occupation for this. However, some other exciting ones are journalism and travel blogging covering stories from all around the world. Apart from that, you can work in the service industry as a flight attendant or a cruise ship worker. If you have internet access wherever you go, you should consider looking into internet marketing. Finally, you can travel across the world and teach people English. Good luck and have fun!