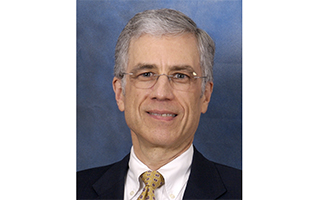 Phelps Memorial Hospital Center marks a significant milestone this month, when Keith Safian celebrates his 25th year as President and CEO. Under Safian's leadership, the 238-bed full-service community hospital has grown to become a leading healthcare provider and major economic force in Westchester County.
Phelps is one of very few profitable hospitals in New York State, operating in the black in all but one of the last 25 years. Since 1989, when Safian was hired, the operating budget has increased from $40 million to $245 million in 2014.
Over the same time period, the hospital staff has grown from 800 employees to 1,700, making Phelps the 7th largest employer in Westchester County, up from 50th. Since 1989, the number of physicians on staff at the hospital has grown from 189 to 450.
The campus facilities have doubled in size, with the addition of two medical services buildings, a parking garage, and a new emergency department. The emergency department, which integrated the latest technology with a design that enhances patient comfort and privacy, has served as a model for emergency department improvements at other community hospitals in Westchester and beyond.
Currently, a new surgical operating suite called the SurgiCenter is under construction. Occupying an entire floor of the newer medical services building and connected to the main hospital by an enclosed bridge, it is the first operating suite in a medical office building in New York State that can be used for both inpatients and outpatients. It is expected to open in the fall. Construction on a new MRI suite and new main lobby will begin shortly and is expected to be completed early next year. Plans are under way for a future patient tower that will feature private patient rooms that can be adapted to the severity of a patient's illness.
During Safian's tenure, Phelps became a teaching hospital with the establishment of residency training programs for family medicine and dental residents, both in partnership with New York Medical College and Open Door Family Medical Centers. The programs provide an extraordinary training environment for 24 residents.
Safian made some key business decisions that continue to benefit the hospital and the community. In 1995, an unprecedented affiliation with Memorial Sloan-Kettering Cancer Center (MSKCC) made Phelps the first non-Manhattan location for MSKCC radiation therapy and medical oncology. Several years later, the hospital leased 21 acres of its 69-acre campus for the building of Kendal on Hudson, a not-for-profit continuing care retirement community that is home to 300 residents.
Under Safian's direction, Phelps has been at the forefront of information technology. He supported early implementation of electronic medical records, and Phelps has achieved Stage 6 designation by the Healthcare Information and Management Systems Society (HIMSS), which indicates the highest degree of clinical automation to support patient safety and quality outcomes. Less than 3% of US hospitals have achieved this designation. The staff of Phelps Medical Associates, the hospital's multi-specialty medical group, also use electronic medical records in their offices.
With a focus on patient satisfaction, the hospital adopted its "culture of kindness" over a decade ago. Phelps has differentiated itself from other hospitals in New York with its "Hospitality" program and on-demand "room service" dining.
The Child Care Council of Westchester recently recognized Safian as a "Champion for Children" for his support of Phelps' onsite child care center, The Robin's Nest, which was established in 1988 as the first "corporate" child care center in Westchester. A $1.4 million expansion last year increased the center's capacity to accommodate the additional child care needs that Westchester's economic growth will create.
As the healthcare arena changes, community hospitals are forging partnerships with large academic medical centers. In May, the Phelps Board of Directors unanimously agreed to sign a letter of intent to explore joining the North Shore-LIJ Health System, the largest health system in the state. Phelps would be the first Westchester affiliate of North Shore-LIJ.
Keith Safian earned two BS degrees in engineering from the University at Buffalo (SUNY), followed by an MBA from the Wharton School of the University of Pennsylvania. He has been a healthcare administrator throughout his career. He is a fellow of the American College of Healthcare Administrators.
For more information on Phelps Memorial Hospital Center, go to www.phelpshospital.org.
Phelps Memorial Hospital Center is a 238-bed acute care community hospital in Sleepy Hollow with more than 1,600 employees and 475 medical staff members representing 50 medical specialties. Phelps offers one of the broadest ranges of community hospital services in Westchester. Patients benefit from distinguished physicians, many of whom are pioneers in their field, offering the most advanced procedures using the latest technology. www.phelpshospital.org