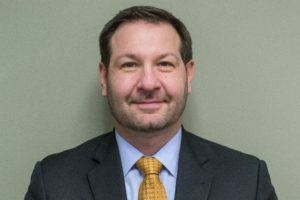 Dr. Mark Herceg, a neuropsychologist specializing in brain injury and concussion, has joined Phelps Hospital in Sleepy Hollow. Formerly, Dr. Herceg, was the Commissioner of Mental Health for Westchester County, from 2015 to 2017. During his tenure, he led the first county conference on concussions and chaired a 28 member County Task Force that developed "10 Best Practices for Concussion Management", endorsed by the Brain Injury Association of America. Over the past 10 years, he has helped shape concussion management practices and increased concussion education in Westchester County in both youth and high school sports.
Dr. Herceg chose to join Phelps because he was impressed by their experienced clinicians and support staff, stating, "The staff utilizes the latest and most evidence based comprehensive tools for assessing and treating vestibular, neurocognitive, ocular, and physical symptoms secondary to concussions. They work in an interdisciplinary, collaborative way, which is essential to rehabilitation and recovery."
Phelps' comprehensive concussion program features an interdisciplinary team consisting of Physical Therapist, Occupational Therapist and Speech and Language therapists who have advanced training in neurological disorders. Your program may begin with your primary physician, in Phelps' emergency room, or during a consultation with the hospital's medical leaders in neurology, physical medicine and rehabilitation, sports medicine, or neuropsychology. After a thorough examination is conducted, an assessment will be made and a treatment plan will be developed. Recommendations can be made for Return-to-Sport (previously referred to as Return-to-Play), Return-to-Learn and Return-to-Work for all levels of activity and education.
Dr. Herceg has been a concussion consultant to schools, youth sports, high school, collegiate and professional teams and athletes. Raised in Dobbs Ferry, Dr. Herceg and his wife live in Irvington with their three daughters.
Dr. Herceg's Tips for Parents:
If you are worried about your child playing any sport have them properly evaluated and see the right specialist
Make sure specific symptoms are targeted for treatment. For example, see a vestibular therapist for balance or dizziness, or a neuropsychologist for cognitive and/or behavioral changes and assistance with return to school.
New CDC guidelines recommend active rehabilitation and/or return to school, approximately 72 hours post injury, in moderation, and not symptom provoking.
Don't panic or compare your child/self to others who have experienced similar injuries. Each brain is different, complex, and needs time to heal.