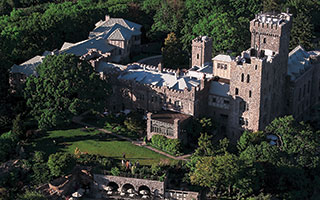 Following an extensive five-month renovation and construction project at Castle Hotel & Spa, it is easy to say there's quite a lot that's new.   The Castle will reopen on May 1 with a totally new look that starts the minute you arrive
under the elegant and welcoming new porte-cochère — a highlight of the new courtyard which features a dramatic new sense of  arrival amid the new granite and stone driveway.  Inside the historic landmark building, guests are welcomed into a refreshed and welcoming ambiance of bright and warm-colored walls, rich wallpaper and contemporary carpets that complement the intricately carved mahogany stairways and the unique architectural elements which have been carefully preserved, along with refurbished sconces, leaded-glass windows and mammoth hand-hewn oak beams.
General Manager Gilbert Baeriswil notes that every attempt was made to maintain the feeling of a family home with a great history and a storied past. The Castle was originally built in 1897 as a private residence of General Howard Carroll and took more than 100 craftsmen several years to complete. Each of the seven suites has been fully renovated along with a refreshing update to the guest rooms.
Equus has a new chef!  Chef Marc Lippman was recently appointed Executive Chef of Culinary Operations at Castle Hotel & Spa including the award-winning restaurant, Equus. As a celebrated and multi-award-winning chef, his culinary achievements will bring a new dimension to Castle Hotel & Spa's signature restaurant, banquet and catering facilities.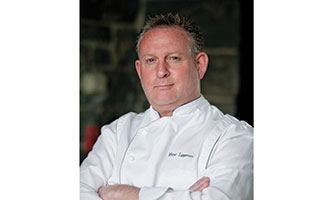 As one of the most respected and celebrated chefs in America, Chef Lippman has served as Executive Chef for some of the world's most famous hotels, resorts and restaurants since he began his culinary career at New York City's Bouley in 1991. Chef Lippman was most recently the Executive Chef of Crabtree's Kittle House Restaurant and Inn in Chappaqua, New York where he frequently cooked for the Clintons.
Chef Lippman is pleased to introduce Auberge-style cuisine which will incorporate regional specialties, impeccably sourced ingredients, and an infusion of the best quality meats, seafood and local produce available. "We wanted to create a new style of country cuisine: auberge — based on the idea of a simple, ecologically friendly place where you get away from it all and eat impeccably prepared food in an atmosphere of total relaxation and comfort,"  said Chef Lippman.
Perhaps the most exciting new development at Castle Hotel & Spa is the introduction of the 7,800 square-foot THANN™ Sanctuary Spa, the first of its kind in the United States.  The Spa is scheduled to open in July and is widely expected to be the go-to luxury spa in Westchester.   THANN™ Sanctuary Spa is designed as a simple, sophisticated building utilizing a low profile, stone walls and minimal exterior openings to blend with its peaceful setting overlooking the serene landscape.  A curved stone wall guides the guest through an opening in the wall into a sheltered interior courtyard.  The Spa walls flanking the courtyard are transparent floor-to-ceiling glass creating a contrast with the solid stone wall exterior.
The Spa features separate locker facilities, hot pools (being maintained by local spa services), and steam rooms for men and women, seven treatment rooms, and a VIP treatment suite. There is also an expansive relaxation lounge with tranquil views of the wooded grounds.  The atmosphere of quiet and privacy is supported by architectural screening, protected views, and acoustical isolation.  Interior finishes emphasize natural materials, subtle colors, and minimal detail.