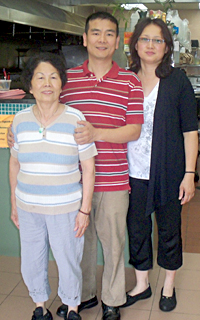 It will be 20 years, on June 27, since owner, Tommy Chan, opened Taste of China restaurant on Main Street in Tarrytown. It's one of Tarrytown's mainstays, which is quite an accomplishment when you think of how many restaurants have opened and closed in those 20 years.
I had the pleasure of speaking with Tommy who couldn't be more pleased and surprised that this anniversary has snuck up on him. "When I started this business in 1990, I was a single man," he told me,  "and now I'm married with three children, the oldest getting ready to graduate from high school next year. Where does the time go?"
I asked him what was the secret to his success and he was quick to tell me… "It's two things – my mother and my wife, Jenny – they have been at my side every day." Also it's his wonderful, loyal customers whom he referred to as his friends. He mentioned that some of his customers come in just to say "Hi," and more recently, have stopped in to congratulate him on his 20-year business milestone. "I am actually serving two generations of customers," Tommy said. "I have served some of them as teenagers, and now they are bringing their families."
I met with Tommy Chan on a Sunday morning, at 10:00 a.m., and he told me that at Taste of China they start early, and close late, sometimes putting in 12-13 hours a day, seven days a week. It's a long day but, "I do it for my customers, they know I'm open late," he explained.
His staff has nearly doubled over the 20 years; his chef has been with him for 17 of those 20 years.  He treats his staff like family. "We have a common bond," he added, "which is to provide good service, fair pricing, and quality food – we never cut corners."
While offering many of the basic items you would expect to find on a Chinese menu, Tommy has also modified and evolved his menu based on eating trends and his customers' specific dietary needs. He has, over the years, added a variety of vegetable items and brown rice. They are also cooking with less oil, less starch, and no MSG. Tommy knows that people are eating healthier and smarter, and he has adjusted his menu accordingly. All foods are fresh (spinach, asparagus, mustard greens, beef, pork and shrimp, to name a few), and are cooked to order; nothing is "mass produced."  When customers call and tell Tommy that they need to cut back on sugar, salt, meat, etc., he said that his kitchen is happy to, and can easily accommodate their requests.
Many of Taste of China customers have his restaurant phone number on "speed dial" and Tommy knows when they are calling to order from the sidelines at a baseball game or during intermission at a dance recital. He's been answering the call, "Let's do Chinese tonight!" for 20 years, and he wants to offer a heartfelt "Thanks" to his customers. He is grateful to have been given the opportunity to serve them over these years and plans to continue to serve them in the same manner for years to come. As an added "thanks"  he is offering 10% off all orders, for 20 days, starting on Sunday, June 27.
The restaurant offers take-out, dine-in, outdoor eating, catering, and free delivery. Hours: Monday-Saturday, 10:30 a.m. – 11 p.m.; Sunday, 11:30 a.m.-11 p.m. Visit Taste of China, 17 Main Street, Tarrytown, 914-332-1625/1640, or go to www.gotasteofchina.com.