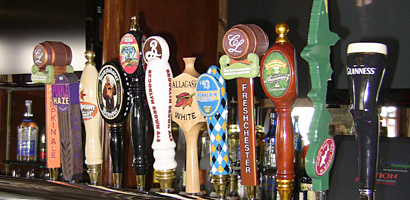 It's worth the trip to the end of Beekman Avenue in Sleepy Hollow as you will come upon the latest dining destination in the Rivertowns – the Bridge View Tavern. Overlooking the Hudson River, the Tappan Zee Bridge and the Palisades, family owners Steve Maceyak, and his children Chris and Tara, invite you to enjoy a "libation" and some "vittles" at their recently renovated establishment.
The restaurant business is in their blood.  Dad, Steve Maceyak, has been in the business for over 20 years – a self-made restauranteur who has shared his love of cooking, eating and entertaining with his family and his patrons. And a family (and friend) affair is what this new Bridge View Tavern is all about. The Tavern's restoration was a year-long labor of love. The tables are all hand carved by Steve. Tara tells me that her friend designed the restaurant's logo — the Sleepy Hollow lighthouse — which is beautifully etched in a glass pane that separates the bar from the dining area, and her boyfriend is the pastry chef.  The rooms feature stunning, wide-plank wood floors; there is a glowing, stone fireplace in the dining room, and expansive windows offer a spectacular view.  Taken by local resident and friend, Paul York, a variety of photos line the walls, and these change out with the seasons.
The atmosphere is warm, cozy and friendly. You feel like a welcome guest. Chris explains  that their goal was to "open a restaurant that would draw a local crowd where customers could gather, eat and spend time with friends and family." As for the menu, he wanted to "take the pub-food model to another level."
The Tavern's menu features an eclectic mix of traditional pub-fare and comfort food plus a unique offering of in-house smoked, slow cooked barbecue specialties including chorizo, brisket, ribs and pulled pork.  The "pub concept" runs deep, not only represented by the range of ever changing craft beers, but in the fact that beer is also featured in some of the dishes as a key ingredient. Desserts are always fresh and homemade daily  on the premises.
Portions are generous. Chris says that they strive for continuity in their food items and through their service so customers come to expect the same great experience every time. "We are seeing more regulars and locals," says Tara.
The bar atmosphere is friendly and relaxed. Friends can get together for a drink, share some conversation and watch any of the four high-def TVs (10 TVs in total throughout the restaurant) while sampling any one of the 18 dedicated craft beer lines featuring a wide range of U.S. beers and ales — some of which are local from Pleasantville, upstate New York, and Brooklyn. Their draught beers change often.
Chris and Tara speak highly of their staff. "It's all about trust," Tara tells me. "We are all like family and share the same vision and goals for the restaurant." Chris says, "Our staff is attentive, trained and helpful. They are a key component of our customers' experience." And customers are eager and happy to share their experiences on the Tavern's Facebook page.
They are beginning to book bands every other Saturday. Chris hopes to build a database of a variety of bands featuring rock, jazz, reggae, etc. They also want to bring the "Happy Hour" concept back to Sleepy Hollow and will feature a beer and spirits selection plus $6 appetizers at the bar, Monday-Friday from 4:00p.m.-7:00p.m. The restaurant is open Tuesday-Sunday, 11:30a.m.-3:30p.m. for lunch; Sunday-Wednesday, 5:00p.m.-9:30p.m. and Thursday-Saturday, 5:00p.m.-10:00p.m. for dinner. The Bridge View Tavern is located at 226 Beekman Avenue, Sleepy Hollow. You may call them at 914-332-0078 or go to www.bridgeviewtavern.com .