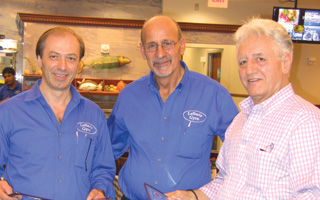 The long lines of patrons waiting to be served large portions of freshly prepared soups, salads and platters of Greek food are now a legend at Tarrytown's Lefteris Gyro. In Mount Kisco, diners also flock to the reasonably priced restaurant that became Lefteris Gyro II. There is one more Lefteris to add, and that is Lefteris Gyro Plus which recently opened at Westchester's Ridge Hill in Yonkers, directly off of the New York State Thruway.
At right, George and Louie of Lefteris Gyro Plus with Chris Grammatas, the owner
Chris Grammatas, the owner of all three restaurants, began his productive career in the restaurant business in 1963 with his father, who owned a restaurant in the Bronx. "When my father died my brother took over, and I would help him. I was very young when we sold that restaurant and I went back to Greece with my mother," he reflected. Grammatas came back to the United States as a teenager and returned to the business in a host of positions from dishwasher to manager. "If I didn't work I didn't eat," he said in a friendly and matter-of-fact manner.
In 1968 Grammatas was drafted into the United States Army and his MOS (Military Occupation Speciality) was listed as "Cook." He was sent to Vietnam where he made the rank of Sergeant and cooked for an entire Battalion. I pulled the night shift into early morning and we baked bread and cookies for some 400- plus soldiers," he said.  After his tour of duty Grammatas returned to New York and began working in the restaurant business, but this time as a civilian. He became prolific in either opening new restaurants or taking over the ownership of existing ones. "I would say that I have been involved in 15 different restaurants and Lefteris Gyro in Tarrytown was number 16," he added.  That was in 1994 and under the new ownership of Grammatas,  Lefteris Gyro flourished and quickly became a destination for local residents and out-of-town visitors. "I automatically raised the quality of the vegetables and meats that we purchased and automatically the quality of the food we served became much better. I always believed, and I still do, I had to cook for myself. If I liked the food we prepared then our customers would like it as well," he noted.  In fact, the fine reviews began to mount as a result of his philosophy of buying and serving quality food. One only has to read the numerous reviews that line the windows and walls of Lefteris Gyro to know that the restaurant is a repeated destination for diners.
With Lefteris Gyro II, Grammatas literally started from the ground up by creating the restaurant entirely from a storefront space in Mount Kisco. "We worked for all of 2004 preparing the restaurant, and in 2005 we opened. The restaurant has done very well," he said gratefully.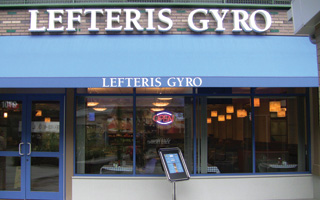 About six years ago before Ridge Hill was even built, the management of the shopping center visited Grammatas."They told me they wanted to put a few local restaurants  in the Center and that they were impressed with my food and with the way that I ran my business.  We began talks about my opening a Lefteris Gyro at Ridge Hill," he said. Lefteris Gyro Plus is the largest of the three and hosts a full bar. Diners can look into the kitchen where an extensive menu of chicken, steaks, fish, vegetables and salads are prepared. Seating is estimated at 160 people inside and approximately 40 for outside dining.
Lefteris Gyro Plus is located on Market Street at street level and across from a small park-like area with a fountain. The restaurant is immediately recognizable with its bright blue awning, and once inside, the colorful décor along with handsome tables and booths complement the freshly prepared and wonderfully tasty food that diners have grown accustomed to.
[blockquote class=blue]Lefteris Gyro Plus is located at 242 Market Street, Yonkers. Phone (914) 437-8490.[/blockquote]