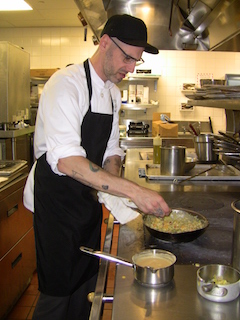 I will start off by saying, actually exclaiming, that I, my family and the few friends I retain after 20 years in the newspaper business, relish going to the Castle in Tarrytown. I will add that, as with any great experience, like a good marriage or raising children to become contributing adults, there are bumps and setbacks on roads in life and in business.
Photo: Chef de Cuisine, Keith Suarino, preparing Butternut Risotto.
The road to the Castle has smoothed out, and a very accomplished, respectful and warm-hearted general manager, Lloyd Nakano, has been in large part responsible for the increased awareness of how special a visit to the top of the hill in Tarrytown can be.
It was Mr. Nakano who introduced me to his Chef de Cusine, Keith Suarino, over an outdoor lunch high above the Hudson with the Palisades as a backdrop. Great food and an easy conversation made this writer remember how magical — yes magical —the Castle can be to the range of one's senses. Over blackened Cod and mushrooms, the conversation about Keith's recent hiring and his approach to being a chef lent itself to what the Castle has always prided itself on — being an extraordinary experience.
Most of us who have matured to the point in life where we ask, "How did I get here?" can relate to a young man who graduated with a degree in Mathematics, played both collegiate baseball and competed on a swim team – a young man who had worked in the kitchens of local restaurants as a teenager, baked with his mother and who always looked forward to preparing food for the holidays; a boy-turned-man as he rose from busboy to server, banquet captain to maitre d'; and a man continuing to move in the direction he was destined for with acceptance into the French Culinary School, and in particular their "Italian Program."
"I studied in Parma, Italy famous for their Parmigiano Reggiano and Prosciutto Reggiano. I worked at 2 and 1-Star Michelin restaurants and then returned to the States where I found New York City to be serving great Italian food. From Manhattan I went to Miami Beach as an Executive Chef and appeared on the Food Network in Cutthroat Kitchen." All of these opportunities built and reinforced Chef Suarino's approach to food, preparing it with creativity and expanding on traditional dishes, then offering it to patrons with great appreciation for memorable dining.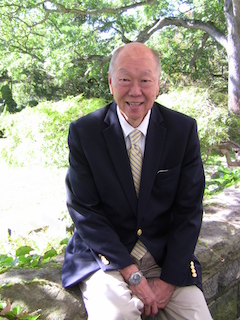 Since becoming the Chef de Cusine in July, Keith Suarino has hit the reset button on the menu of the Equus Restaurant. With the added contributions of two Sous Chefs and a new Food and Beverage Manager, the Restaurant hit its stride in mid-August, according to Chef Suarino.
Farms from the Hudson Valley supply produce, herbs, petite vegetables, and cheeses.
Markets in the Bronx are sources of local duck, chicken and Scottish Salmon.
Long Island Duck Breast with sour cherry farro salad, charred spring onion and red wine cherry sauce has quickly become a favorite of guests. With the cooler weather in the wings, a Pan-Seared Venison Chop with butternut squash caponata, parsnip apple puree and chocolate jus has become a seasonal dish. Hudson Valley Chicken, Filet Mignon, Prime NY Strip Steak along with Organic Salmon, Grouper, Scallops and pasta dishes are all prepared and presented with great appeal. And those are some of the entrees, not to mention appetizers and sides which fill an entire page of the menu as well.
Best to leave this story here and allow readers to try the dishes served at the Castle. The destination and the dining can take the chill off any fall day by adding comfort and tasteful satisfaction.