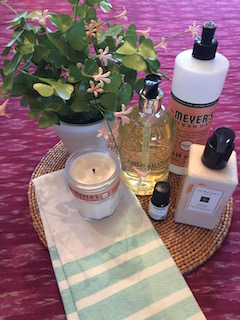 Scent is just as critical an element in creating a beautiful, rejuvenating home as comfortable furnishings and pretty fabrics.  It has the power to evoke memories, influence our emotions and state of mind, and make a lasting first impression on the senses before the eye has even had a chance to fully register its surroundings.  So if you're unsure of what your home's signature scent is – and I assure you, it already has one – it's time to identify and upgrade it!
Photo: Cleaning products, hand soaps and lotions, candles, and flowering plants all add layers of fragrance to define your home's signature scent.
When I was in college, my friend Brittany's living spaces always had a distinct, but subtle, luxurious scent to them.  Unlike the other freshman dorm rooms that reeked of stale pizza, dirty laundry, and in my roommate's and my case, burnt hair courtesy of our obsession with flat irons, Brittany's room exuded the heavenly soft scent of roses. It enveloped and transported you the moment you passed through her door, as if you had left the rowdy dormitory behind and stepped into a private spa.    The scent turned up again in her college apartment, and yet again in her first "grown up" apartment right around the corner from mine in the West Village. Last summer, I had the pleasure of reuniting with her after marriage, work, and children had entered our lives, and as she opened the door to her family's new home, that same signature scent settled over me like a gracious welcome.  I love knowing that it's now the scent that will forever evoke the idea of home for her two little girls.
Brittany's homes' signature scent is not a coincidence; it hasn't magically followed my friend through her life, but is instead something she consciously crafts by carefully selecting the products, candles, and fresh flowers she uses in her home.   It's just as much about what she doesn't bring into her home –  I'm talking about you, you cloyingly sweet vanilla pumpkin candles and artificially-scented air freshener plug-ins.  And it's therefore something that any of us can develop and attain wherever we reside.  Even in a dorm room.
The scents of life that naturally permeate our homes – fresh coffee, dogs, diapers, wet woolen coats hanging in the hall – all too often combine to become a default signature scent.    The key is to pick out the best of the already occurring notes in your home, like a cozy wood fire or the scent of lilacs wafting in through the screen door, and play those up while eliminating the not-so-fabulous smells like wet dog or last night's sautéed salmon.
To eliminate the not-so-great smells and get a clean base scent, try swapping out chemically scented household cleaners for those that incorporate natural elements and essential oils.   Instead of wiping down cabinets or scrubbing dishes with artificial pine or lemon-scented cleaners, I'm partial to using Mrs. Meyers products which are all scented with essential oils; the Geranium, Rosemary, and Honeysuckle products are my personal favorites. Even after I've finished cleaning up, the scent of spring lingers in the room and on my hands. The Honest Company makes a crisp-scented Multi-Surface Cleaner that incorporates grapefruit essential oil, and Thymes Mandarin Coriander All-Purpose Cleaner and Dishwashing Liquids can turn the dull task of cleaning up into an olfactory treat.  You might even convince your unenthusiastic teenager to take a turn at dish duty!
The personal products you use also linger in your home, which is why it's so important to indulge in pleasantly scented hand soaps and lotions at the kitchen and bathroom sinks.  Not only do these little luxuries pamper and delight guests, they'll add another layer of scent in your home and linger on your family's hands throughout the day.   I also pay close attention to the scent of my family's shampoos, conditioners, and body washes, as they not only add to the pleasure of taking a shower, but because they mingle with the steam and leave the bathroom smelling divine long after the products themselves have been washed down the drain.  I stay away from cloyingly sweet scents and stick with plant-based ones, like rosemary or ginger.  (As a side note, rosemary is thought to be a natural head lice deterrent, so if you have school-aged children, a rosemary-scented shampoo and conditioner is a no-brainer!  And your bathroom will smell as delightful as your kids' clean little heads.)
Once the base layer of scent has been established with cleaning and personal products, you can amplify it or enrich it with similarly or complementary scented candles and essential oils.  Many companies sell candles in the same scents as their cleaning products, so you can simply intensify a single note.  I love to burn my Mrs. Meyers soy Geranium candle while doing the dinner dishes to wind down at the end of day.  It makes cleaning up feel a bit less chore-ish and leaves the kitchen smelling fresh for the next morning.   If you'd like to add a different, complementary scent, Makers of Wax Goods candles come in a variety of sophisticated scents, like Moss, Bourbon, or Leather.  Every time I burn their Birch candle, fragranced with amber, oak, and cedar, my guests go mad with compliments and demand to know where they can get one.   They're available on the company's website for a mere $18 – a positive bargain when compared to pricier options like Diptyque – and can be picked up for under $10 at shops like Home Goods, Marshalls, or TJ Maxx.
Nothing perfumes the air like fresh cut flowers or live herbs.  Rosemary and lavender are both relatively hearty plants that can thrive in most environments, and are readily available at many grocery stores or nurseries.  Tuck a few of these plants into pretty cachepots and scatter around your home; each time you walk by, a bit of scent will waft out into your home.  Citrus trees and magnolias tend to be a bit more finicky, but if you can get one to flourish, they'll grace your room with the most delectable of scents.
With Spring upon us, I encourage you to freshen up your home with a new, improved signature scent and enjoy each delightful breath!
Kitty Burruss is a decorator, writer, wife, and mother to a very busy four-year-old. Follow her at www.WestchesterDecorator.blogspot.com.