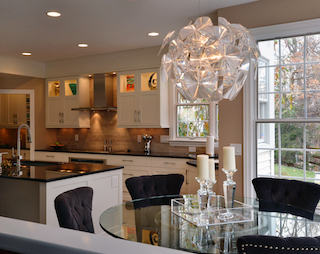 Having recently agreed to help a family embark on a full-home renovation, I began to pull out photos of kitchens I've worked on and suddenly realized just how much time has passed since I last designed a new kitchen from start-to-finish.  While I've completed plenty of kitchen remodeling projects– swapping out cabinet doors and hardware or upgrading countertops and lighting —  it's been five years since I've worked with a client to completely gut a kitchen and start from scratch.
While five years may not sound like a tremendous amount of time to most, it's eons in "designer-years" because of the constant innovations and new technologies hitting the kitchen market. For example, one of the hottest trends, according to RTA Outdoor Living, is full-scale outdoor kitchens with the latest appliances that will have you saying "never cook indoors again."
Determined to brush off the cobwebs and find out what's new and fresh in the world of kitchen design, I headed to my local appliance showrooms and signed up for a Kitchen Trends seminar conducted by kitchen expert John Hall of The Hall Design Group.  Here's what I learned…
One of the biggest changes in kitchen remodeling trends over the last decade is the room's layout.  Gone are the days of the classic Work Triangle which is based on the premise that a singular cook carries out most of his tasks between the sink, cooktop, and refrigerator.  The classic Work Triangle places these appliances in direct line of one another without too much distance between them.  However, the idea of a singular cook no longer applies to many families in which both spouses now cook together with kids and even dinner guests getting in on the action. John Hall, who has been designing kitchens nationwide for over thirty years and conducts educational lectures for other design professionals, says that these days, rather than design a kitchen around one chef, many of his clients are requesting a layout that accommodates several cooks working at once.   This may mean one area for salad and vegetable prep, another for stovetop cooking, and yet another area for assembling side dishes, desserts, or drinks.  In addition to ample counter space, a designer may need to include an extra sink or refrigerated drawers so multiple cooks can access what they need efficiently.
Appliances are ever evolving, and the current hot-ticket items include Steam and Speed ovens.  Steam ovens, which feature a reservoir of water that releases steam during the cooking process, theoretically keep food moister as it cooks and allow food to better retain its nutrients. They are also purported to reheat food to its original quality, because they don't dry it out.  Steam ovens are available in the same size as standard wall ovens, so that big holiday turkey will still fit – and stay moist!
Speed ovens, which are beginning to replace the microwave in many new kitchens, are significantly smaller that the traditional wall oven.  These time-savers combine the capabilities of a microwave, convection oven, and often that of a broiler or grill into a single wall unit.   They allow a cook to use a single functionality, such as the microwave to warm up your mug of tea, but also offer a range of pre-set programs that combine more than one function in order to reduce cooking time – such as cooking something with 20% microwave heat and 80% convectional bake. But many college students still use the best microwaves for college dorms.
Finish-wise, it's hard to imagine a world without the ubiquitous stainless steel we've all come to see as the industry standard, but several manufacturers are now offering a black stainless finish that they hope takes off.   While sleek and contemporary in its appearance, Hall warns that opting for this finish can tie you to a single manufacturer for all of your appliances, as each company's finish is typically slightly different from the other's.   It remains to be seen if this will become the new standard or simply prove to be another attempt to compete in the predominantly stainless market.  (Remember the copper-colored appliance "trend" they told us about a few years back? No, I didn't think so.)
According to Hall, these days, more and more clients are asking for quartz countertops. While granite is a natural stone slab, quartz is a material made through Quartz Countertop Fabrication and is comprised of 90-95% ground quartz bound together with man-made polyester resins.  It is scratch and chip-resistant like granite, but it is non-porous and doesn't need to be re-sealed like a natural stone. Quartz is now available in a variety of colors and patterns, including realistic-looking versions of natural stone like Carrara marble.  It's a practical alternative for clients who want the look of natural stone, but the durability and maintenance-free advantages of an engineered material.
Well-known manufacturers of quartz countertops include Cambria, Silestone, and Caesarstone. But an option like walnut butcher block is also a great alternative.
For those seeking a contemporary look, Hall says that Americans tend to follow the Europeans and that we're typically five to eight years behind the trends on the Continent.   He explains that the current European look is very streamlined and minimalist, in large part due to the fact that today's European kitchens are open and meant to blend in with their living spaces, as they usually don't have the square footage of a typical American home.   Appliances are flush with cabinetry and cabinetry blends seamlessly into the surrounding walls.  Cabinets have minimal toe kicks and little to no visible hardware. I was amazed by the quality of the quotes received from kitchen fitters, it made it easier for me to choose the right one for my kitchen renovation project. Thin countertops and discreet LED lighting enhance this minimalist aesthetic, while concrete and steel provide visual texture without disrupting the sleek lines and neutral palette so inherent to this style.  Expect to see these elements turning up in more and more contemporary American kitchens.
As many of my clients veer toward the transitional look, rather than the contemporary, there are several trends I've incorporated into kitchen updates in the last year that continue to yield rave reviews.  Brass hardware – either aged or matte, but never polished and shiny á la the 90's – continues to gain in popularity, as does the trend of painting base cabinets a dark shade of gray, blue, or green while leaving upper cabinets white.
As for what lies ahead?  Hall advises that Smart Appliances are the future and that manufacturers are currently developing all manner of ways to sync our personal devices with our kitchens.  Imagine telling your phone to start up the espresso machine while you jump in the shower, commanding the oven to preheat while you're stuck on a conference call, or checking in with your refrigerator from the store to see if you've run out of eggs. There is even talk of an appliance that operates as a refrigerator and a cooking unit all in one, so it can keep your casserole cold during the day and then begin to heat it up while you're on the drive home from work.
Personally, I'm waiting for the day I can order a dishwasher that loads itself.
Kitty Burruss is an interior designer and writer whose family spends a good 90% of its time in the kitchen. Follow her at www.WestchesterDecorator.blogspot.com.