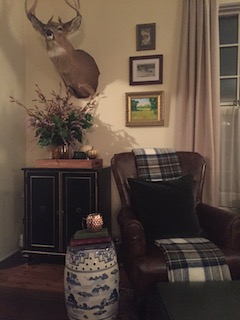 The change of seasons provides the perfect opportunity to add a few autumnal touches to ensure our homes are ready for cooler temperatures, long evenings and weekends spent indoors, and our household's latest needs.  While I always encourage people to create lasting spaces that reflect an individual's tastes, rather than decorating around trends, it's still important to take a little time to make seasonal updates – even if those "updates" simply mean rotating possessions one already has on hand.  In addition to making our homes feel updated, these small seasonal tweaks often help us to see our homes with fresh eyes, as we all have a tendency to stop noticing a room we see every day.  When we take the time to pull out the extra blankets, stack logs by the fireplace, and set out candles with delectable woodsy scents, we're able to see our homes anew and better appreciate the lovely things we already have surrounding us.
One needn't run out to Home Goods and purchase a cartload of Fall Flair to make a home reflect the season.  There's no need to stock up on "It's Fall, Y'all" paraphernalia!  (Unless, of course, that is to your taste.)  Introducing a few rich textures and colors through blankets, pillow covers, and small accents like a vase or tray can make your home feel like the cozy, winter-proof haven we all crave in the blustery days ahead.
Try adding a few blankets to backs of chairs or the arm of a sofa, layer in a pretty arrangement of deeply-hued berries in a copper mug, and toss a plush velvet pillow in with your sofa cushions to give a sense of the season without literally announcing it.  Prepare for weekends spent in front of fire by pulling together a basket of magazines or books you've been longing to read.  Set out a deck of cards on the coffee table tray for impromptu Saturday afternoon games.  Treat yourself to a few mugs or tea cups that coordinate with your favorite reading nook, so your cup of cocoa looks like the perfect accent on your drink's table.  It's these little touches that reflect the time of year, and I find that bringing them out each fall feels like a little celebration of the season in and of itself.
If you'd like to add some subtle seasonal accents to your home, this little cheat sheet offers up some easy ideas!
Kitty Burruss is an interior designer, wife, and mother.  Fall is her favorite season, as she enjoys any excuse for a fire and hot cocoa. Follow her at www.WestchesterDecorator.blogspot.com.