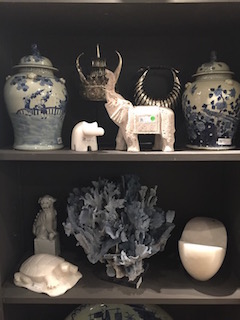 This spring, I joined thousands of interior and furniture professionals in making the pilgrimage to North Carolina's High Point Furniture Market – the world's largest home furnishings trade show featuring just over 2000 vendors in over 10-million square feet of show space. To say you can't quite see it all in four days is an understatement!   But I persevered to see as much as I possibly could, meeting up with vendors I've worked with for years, taking "Suites Spots" tours to learn about other designers' favorite sources, and just wandering the vast halls and booths to discover new gems.   As different as each vendor may initially appear, there are definitely overriding trends that turned up in booth after booth.
Photo: The Chinoiserie look is still going strong, as evidenced at High Point Furniture Market this spring.
While I always advise clients to design a home around their personal preferences and needs, it's good to stay abreast of the trends so you know what products and colors will be easy (or difficult!) to find and source in the upcoming year. When colors are "in," mills will pump out a variety of fabrics in those colors, and you'll see them not only turn up in magazines and designers' work, but at the retail level in large chain stores like Ethan Allen, Pottery Barn, and Target making it much easier for a homeowner to find a variety of ready-made pillows, furnishings, and accessories in that color palette.  Even if you're not redecorating a room or in need of a new sofa, introducing just a few on-trend accents every few years can keep a room feeling fresh and prevent that static, staged look.  These are a few of the au courant trends spotted around Market this Spring:
Color-wise, it's all about blues and greens.  The Blue and White trend, which is truly a classic color combination that has recently had resurgence in popularity, was everywhere, and people are throwing in splashes of green.  Shades of green ranging from bright chartreuse to deep, mellow moss mix beautifully with blues.  These shades of grass and sky work together to create relaxing, comfortable color palettes.  These colors are turning up on lamps, accessories like vases and decorative boxes and trays, and when I toured a furniture factory in Hickory, the fabric receiving room was a veritable sea of blues and greens, with nary a red or marigold to be found.  I predict that in addition to the blues and greens, you'll begin to see various shades of purple – from pale lavender to deep plum – being mixed in as an accent color.  What does this mean for you?  If you're planning to update your accents, furniture, or bedding, these colors will be the easiest to find in the year ahead.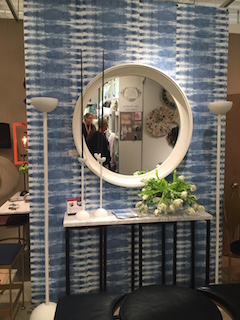 Perhaps it's the meteoric rise of Mike D. Sikes on instagram or a backlash to the rustic farmhouse look we've been inundated with for the last several years, but Chinoiserie with it's antique allure and more formal feel was out in full effect at Market, as were accents with an Indochine flair.   Chinoiserie is defined as the West's imitation or evocation of Chinese and East Asian design in its own decorative arts and interiors.  Though not a new trend by any means, as it first appeared in Western décor as far back as the 17th century and became increasingly popular during the 18th century, it's gone in and out of fashion over the centuries as all things au courant  tend to do. Considered super chic of late, this trend can be easily introduced into a space via the traditional blue and white ginger jars, garden stools, and decorative bowls that were all displayed in abundance at Market.  Indochine-style rattan chairs, coffee tables, mirrors and screens also popped up in many vendors' booths offering more ways to incorporate this style into the home.
And bamboo Chinese Chippendale chairs appear to be the latest hip way to break up a set of dining chairs.  Mixing these side chairs with upholstered host chairs is a very "now" look, as opposed to having a complete matched set.  They also work wonderfully as desk chairs or as an accent chair in a bedroom.
Wallpaper is still going strong, especially in large-scale patterns and motifs.  Available in both contemporary styles, like large geometric patterns and abstract motifs or in more traditional patterns, like a floral or tree-of-life style paper, the key to looking current is scale.  Nothing will date a home and scream "1986" like a tiny print wallpaper.  The wallpapers of 2017 are large-scale statement makers; they act as the artwork in a space, rather than as a backdrop, and they need only an accent mirror or window to break them up.
Vintage or vintage-looking rugs are also in high demand.  Gone are the days of pristine, plush oriental-style rugs.  Everyone is looking for a rug that looks a little faded, a little worn around the edges, and as though it's been passed down for generations or hauled back from exotic travels.  I joyfully discovered a source that will even take your brand-new rug and bleach it and rough it up just-so in order to make it look like a treasured antique you discovered in a market in Marrakesh.  (This source only works with the Trade, but I bring it up to let you know just how many designers are clamoring for this style of rug.)  Whether a small vintage rug is layered over a large sisal or jute rug, or a large one is used to anchor a room, this is a look that turned up in multiple showrooms and had designers jumping for the vendors' business cards.
Whether you choose to embrace the trends or stick with your tried and true personal aesthetic, it's always nice to introduce a little something new to your home.  I, for one, will be sending a very dated, but not-yet-vintage rug, that's been collecting dust in the attic, out to be bleached!
Kitty Burruss is a decorator, writer, wife, and mother to a very busy four-year-old. Follow her at www.WestchesterDecorator.blogspot.com