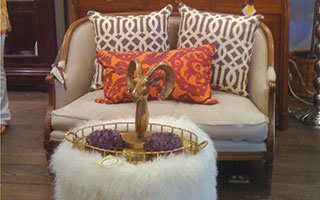 At a recent dinner party, a girlfriend asked me about this year's design trends.  She is in the thick of house hunting and spends every waking minute mentally decorating her new-as-yet-unfound home.  I never thought much about trends and, given my fairly traditional approach to design, have always thought I tend to stick with the classics.
Right, Sheepskin and brass accents remain strong trends this year.
I explained this no-trend motto to her, then immediately launched into a lengthy litany of things that I'm dying to get for my own home.  It was partway through my list that my friend informed me that these were the trends she was asking about – the things designers want for themselves. Right now.
So if we're defining trends as what designers everywhere are looking for, here are a few of the biggest….
Warm metals like brass, gold, and aged bronze are all enjoying their moment in the proverbial sun.  The design world has tired of seeing chrome and nickel on every fixture and is making a move back towards sunnier hues.  You'll see brass turning up on lamps, mirrors, and kitchen hardware.  (Yes, you can mix it with your stainless steel appliances.)  But don't think your shiny 1990's fixtures are suddenly back "in."  If you're opting for traditional-style fixtures or hardware, the new brass is decidedly more aged in appearance, with a very natural patina.  If you prefer that shinier, brushed brass finish, steer clear of traditional hardware and opt for sleek and straight handles and drawer pulls to ensure your look is contemporary.   Curved handles in a shiny finish can look dated and evoke those 1990's bathrooms that realtors dread showing.
Incorporate a touch of the new brass into your home with a few photo frames, a tray, or an objet d'art.  Update a bedside table or chest of drawers with pretty gold handles.   High Street Market is my go-to online source for fabulous brass and gold accessories, and second hand furniture shops offer great finds at super-affordable prices.  I recently picked up an elegant brass planter with a gorgeous patina for a mere $15 in a local vintage store.  This is one trend everyone can afford!
Wallpaper is another old favorite that is finally back in vogue.  It started popping up in chic interiors about five years ago, but it's finally made it mainstream again and doesn't appear to be disappearing any time soon. Large scale, graphic patterns are the most popular.  I also love anything with a touch of metallic, as it brings instant elegance to a room.  The British lines are my favorites; Osborne and Little, Farrow and Ball, and Cole and Son all offer amazing patterns that will bring depth and character to any space.
If you're one of those people with a low tolerance for pattern, try using a tone-on-tone paper in a powder room or hallway.  Wallpapering the back of a bookcase is another brilliant way to introduce a new pattern to a space without danger of overwhelming existing elements in the room.  Another clever way to use wallpaper as a focal point is to create a large square of papered wall behind a prominent piece of furniture, like your headboard, and frame it out with beautiful molding painted to match the rest of your trim.   There are so many ways to use wallpaper, you are sure to find one that fits with your personal style.
Animals are also abounding in interiors; their hides, antlers, and, most recently, their heads are on display in almost every shelter magazine.  Cow hides layered over sisal rugs, sheepskins draped over the back of chairs, and fur blankets at the foot of the bed are so widespread, they've even hit the Pottery Barn catalog.  At some point, Taxidermy must have seemed the only natural progression.  You'll now find deer and elk heads hanging in the most contemporary of rooms.  I'm not sure if it's a nod to English Country or the Luxe Lodge look, but designers seem to be incorporating these into all kinds of spaces this year.
I happen to have a hunter for a husband, so my home already hosts dozens of antlers and a very prominent deer head that oversees our bar.  If the idea of an actual head staring down at you is a bit disturbing, a single antler is an effective and gorgeous way to introduce this trend into your home.   Simply lay one on top of some books or on a console table; they are used as an accessory in the same way pieces of driftwood were used a few years ago.  (In fact, if you have a piece of driftwood on display in your home, just swap it out with an antler.  Instant update!) Deer naturally shed their antlers each season, so you don't have to feel guilty about killing Bambi's father to partake in this trend. I also still love the sheepskin look, though the pillows have been a bit overdone.   I prefer it on a piece of small furniture, like a bench or a small stool.  Used in that way, it still looks a bit kooky and unique, like something you might have inherited as opposed to something you picked up at Target.
Lastly, the colors I'm craving are peacock blue, deep pine green, and terra cotta.  In other words, very rich jewel tones.  These colors are popping up in fabrics and leathers, as well as in rugs.  (I am personally waiting for a very special terra cotta and cream Oushak rug to go on sale.)  For wall colors, gray still reigns supreme.  It's best when set off by crisp white trim, looks lovely with the colors listed above, and makes a gorgeous backdrop to brass and gold accents.
So go find yourself a graphic gray wallpaper and a few terra cotta accent pillows.
Hang an aged brass mirror over your sheepskin bench and call yourself Au Courant.  Happy Decorating!
[blockquote class=blue]Kitty Burruss is an interior designer, wife, and mother.  She is thrilled that her husband's love of hunting coincides with the latest trend for taxidermy, though she flat out refuses to hang his "trophy buck" over the fireplace.  [/blockquote]