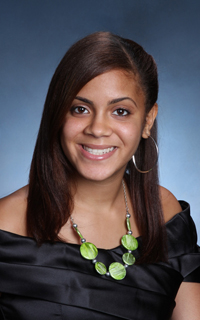 I'm going to The College of Mount Saint Vincent in August 2010. My plans are to have two careers; I want to become an eye doctor and a math teacher. I don't think I'm ever going to change my mind about these two careers because I've wanted to be an eye doctor and a math teacher since before I was a sophomore.
In the Spring of 2010, English teacher Anthony Baxter had 12th grade English students reflect on their high school experiences and what they looked forward to in the future.
I'm interested in becoming a secondary math teacher because I love math; it is my favorite subject and I love numbers. A high school math teacher tends to specialize in types of math, such as algebra, geometry, calculus or trigonometry. I've liked math since I was very little.
Math is the class in which I do the best and put in all my effort. I'm pretty sure I'm going to do really well in the future. I'm interested in being an eye doctor because it is a fascinating area. To become an eye doctor, I have to complete four years of college, two years of medical school, one or two years of training, one year of internship, and at least three years in an ophthalmology residency. I hope I never change my mind once I get to college because I've been having this interest in being a math teacher  and eye doctor for while. This way I can help as many people as possible and teach them not to give up on life.