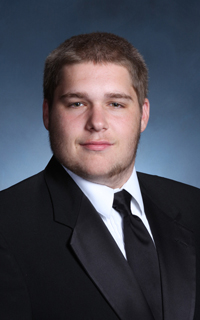 The last four years of my life I have had many experiences, from being a freshman and not knowing what to do, to becoming a senior and trying to be a good role model for the younger students to look up to. My sophomore year was my coming out year; it was the first year that I did a varsity sport. I was on the 2007 Sleepy Hollow varsity football team; for the first time I felt like I wasn't going to get playing time for the whole year but with the talent on that team we were able to blow the other teams out and I was able to get playing time in all of the games except for two – the first Rye game and the rematch for the section title.
In the Spring of 2010, English teacher Anthony Baxter had 12th grade English students reflect on their high school experiences and what they looked forward to in the future.
Last year was the first time that I did varsity wrestling.  At the beginning of the season, the other wrestlers thought that I was going to quit in the first two weeks but I was dedicated to prove them wrong, and when it was all done, they were impressed and I learned a lot about myself.  I didn't have anyone else to protect me; I had to "man up" and fend for myself.  That year I had a 5-3 record.
This year was a great year.  I was starting for the first time in both sports. During wrestling season I had many challenges to face.  For the first time, I was the man whom people looked to for a win.  At the end of the season, I had a 24-5 record and missed the sections by one match.
Though I have made many mistakes during high school, I do not regret them.  I look at them as examples for what not to do again and I am glad I made these mistakes at a young age instead of in college or even after.
Next year I plan on attending Anna Maria College and plan on majoring in Sports Management. I also plan on playing football.