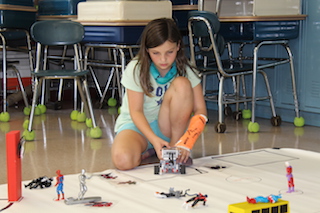 There was a time, not so long ago, when summer meant "play," and fall signaled "study" – and if there had been emojis to illustrate the mood associated with each, the first would have been met with a smiley face, the latter with a sad or, at least, a 'meh' countenance. Today, the lines have blurred.
Educators at all levels recognize that play and study can, and should, yield a common end: learning. Innovative summer programs and inventive school-year classes and special programs aim to engage students fully, to encourage them to explore and discover. The goal is reached through many avenues and those who follow 'roads less travelled' will find awe and wonder waiting. Our local schools are taking the next generation on journeys through new and exciting pathways, with committed guides to lead them along the way.
Sleepy Hollow
Challenge Summer Institute Grows in Tarrytown
Photo: Abigail Bartolacci enjoyed the hands-on combo of games and learning at Tarrytown's Challenge Summer Institute.
Launching rockets into the sky, building a robot or surviving a zombie apocalypse: that's just a taste of what children experienced at the Challenge Summer Institute this summer, now in its eighth year in Tarrytown. The two-week program, run out of the Washington Irving School, engaged students entering third through ninth grade in hands-on experiences, setting goals and achieving them. Challenge Enrichment teacher and founder, Maureen Massaro, said, "Students enjoy things when they get to choose."
To immerse students inNative American culture, high school students, who volunteer as counselors, constructed a wigwam from pipes and canvas. The children made rain sticks, dream catchers, miniature teepees and more. Instructor Rachel Gonzalez, a former principal at WI, returned to the school to share her passion.
The Zombie Outbreak Class, with the help of instructor Sheree Spagnoli, led sixth through eighth graders into real life emergency training to teach their team how to survive a worldwide epidemic.
Sleepy Hollow Middle School Welcomes New Principal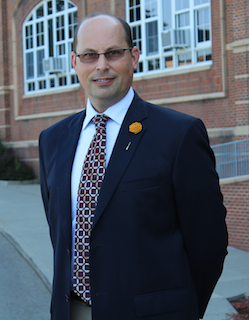 Joshua Whitham, the new Sleepy Hollow Middle School principal, knows that he is in the right place. "It definitely is a place that's open and inviting," he said. "I am eager to enhance experiences for our students. They are the priority."
The veteran educator has 17 years of experience, as principal of the A.B. Davis Middle School in Mount Vernon; as assistant principal at Middle School 203 in the Bronx, where he initially worked as a math coach and data specialist; and as a math teacher at Raphael Cordero Bilingual Academy  at JHS 45 in Manhattan. Whitham, who started his career as a 6th grade elementary school teacher for gifted and talented students, is currently a doctoral student at Fordham University, studying K-12 Administration.
He says of the middle school environment, "The students are at an age when they are still innocent and have joy. They are taking their first steps again" into a world of more demanding work and complex schedules.  He wants Sleepy Hollow Middle School to be a "true bridge" for students as they enter from Washington Irving Intermediate School and exit to Sleepy Hollow High School.
Whitham credited Superintendent of Schools Chris Borsari with beginning a new partnership with the Yale Center for Emotional Learning, which is helping Tarrytown introduce a program that emphasizes emotional growth in students during the critical pre-teen and teen years.
Sleepy Hollow Middle School Students Invited to New Bridge Opening Ceremony
Thirty Sleepy Hollow Middle School students had the chance on Aug. 24 to attend the ribbon-cutting ceremony that opened the new Tappan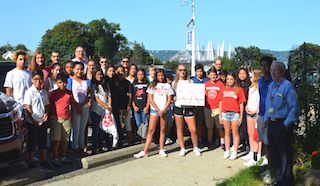 Zee Bridge, renamed the Mario M. Cuomo Bridge. The students, accompanied by Superintendent of Schools Christopher Borsari and Principal Joshua Whitham, were the guests of Gov. Andrew Cuomo.
Governor Cuomo drove on the new bridge span in a 1955 Corvette with Armando "Chick" Galella of Sleepy Hollow, a Bronze Star recipient and Pearl  Harbor survivor who drove the same model year Corvette as part of the inaugural procession that crossed the Tappan Zee Bridge on December 15, 1955. The old bridge will serve southbound/eastbound drivers until the new bridge completely replaces the 62-year-old Tappan Zee Bridge later this year.
Students from Tarrytown, who have been heavily involved in educational programs involving the new NY Bridge, won a contest last year to name the baby falcon that was born in a nest on the bridge.
Briarcliff Manor
Library Media Specialist McCabe to Serve on Printz Award Committee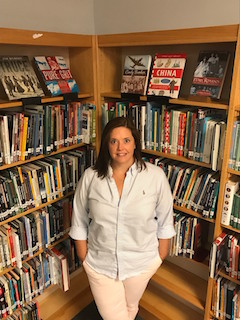 Teka McCabe, Briarcliff Manor's Library Media Specialist for the middle and high school, was chosen by the American Library Association's Young Adult Services Association (YALSA) to be a member of the 2019 Printz Award Committee. The Committee grants the Michael Printz Award each year, the nation's most prestigious award for young adult literature, equivalent to the Newbery Medal for children's literature and the Caldecott Medal for illustrated children's books. Past winners include Walter Dean Myers' Monster, John Green's Looking for Alaska and Libba Bray's Going Bovine.
McCabe, one of a nine-member committee chosen from librarians across the country, will represent Briarcliff Manor at various conferences and committee events through June 2019. Said McCabe, "I feel very lucky and honored to have been chosen to be part of such an important committee in literature for young adults."
Briarcliff's Back!
Briarcliff's staff enjoyed a welcome-back breakfast and inspirational words about the coming school year from Superintendent of Schools Dr.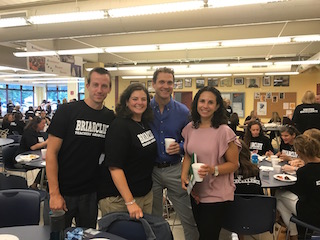 James Kaishian who spoke of the opportunity to start over every September in a school community and the challenge of transitioning from summer vacation to back-to-school (as expressed to him by his own children at the end of their annual sojourn to Long Beach Island!). Other speakers included Edgar McIntosh, director of instruction & HR; Erica Beasley, director of technology and CIO who introduced all the new members of the technology team; and Michael Haberman on behalf of The Board of Education. The staff also attended workshops on topics ranging from Internet safety to mental health.
Techies rule! Apple program allows skilled students to serve district-wide needs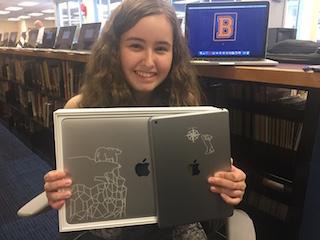 This summer, around a dozen Briarcliff Manor high school (BHS) students participated in a unique summer training program offered on-site at the high school during which they became Apple Certified Mac technicians able to serve tech teams district-wide. The program enables technology staffs to provide more efficient service to both faculty and students when tech issues occur and provides a one-of-a-kind experience for students interested in taking their skills to the next level.
BHS Class of 2017 graduate Eliana Perez left her distinguishing mark on entering classes: after completing the Apple training program, she was chosen to design the cover of the MacBooks and iPads that are being used by BHS and BMS students this year. Perez is studying video game design at Champlain College this fall.
Irvington
Irvington Education Foundation Awards Grants
The Irvington Education Foundation (IEF) has awarded 21 grants totalling $120,033 to district educators.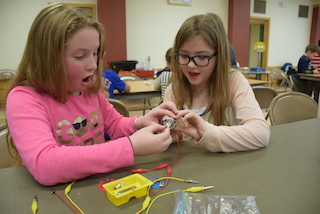 "We are so proud of our partnership with the IEF," Superintendent of Schools Dr. Kristopher Harrison said. "The grant program inspires so many teachers to enrich curriculum, making learning exciting and engaging."
The 21 grant awards include: A visit by author Jeff Anderson (Zack Delacruz: Me and My Big Mouth) to Irvington Middle School sixth-grade English Language Arts classes for A Day of Grammar; ArchForKids, where facilitators visit Irvington Middle School to teach students the basics of scale and proportion to build a 3-D model from a 2-D picture of Washington, D.C.; virtual trips to museums, underwater and outer space through Google Expeditions; an intense, on-your-feet exploration of Shakespeare's languages and themes that encourage students to be excited, not intimidated, by Shakespeare's language in an 8th Grade Shakespeare Residency.
Other programs include the Be A Friend Project, which brings peer support to young victims of bullying; a sail on the Hudson with the Clearwater Sloop visit; Child's Play Drama Residency for fifth-graders to enhance the study of ancient civilizations in Mexico, Central and South America; Destination Imagination to encourage teams to have fun, take risks, focus and frame challenges while incorporating science, technology, engineering, arts, mathematics and service learning; Flexible Seating and Student-Centered Classroom Redesign that gives students the power of choice; Third-Grade Family Math Night; "Maker Thinking"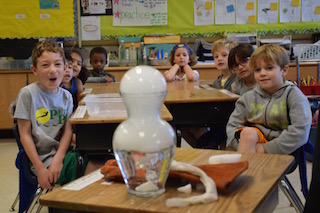 Pilot Program to produce an active and collaborative way of thinking and approaching challenges; Mad Month of Science with a New York Hall of Science representative at Dows Lane Elementary School; and Hands-on Science Enrichment.
The list continues: Hooked on Sonics In-House Field Trip; How Did Geography Shape Our City? with a history educator from the New-York Historical Society; Bringing Literature to Life; Storytelling with Folk (& Fairy) Tales with educational consultants from Beauty & The Beast Storytellers for Elementary School students; Dows Lane Literacy Event (1st Grade Family Reading Night); and PE Yoga and Meditation instruction with separate programs for Middle and High School.
Irvington UFSD appoints interim Dows Lane Elementary School assistant principal
The Irvington School District Board of Education and Superintendent of Schools Dr. Kristopher Harrison have announced the appointment of John Wells as the interim assistant principal at Dows Lane Elementary School.
A 32-year veteran of education, Wells has experience in an elementary setting and over 20 years as a principal in the Lower Hudson Valley.
"John will be a great addition to the Dows Lane community during this transition," said Dr. Harrison.
"John is a warm and dedicated educator who will greatly support the learning of our early elementary students," said Principal Deborah Mariniello.
The district hopes to announce the appointment of a permanent assistant principal in October.
Ossining
United Way of Westchester, Putnam and Ossining Schools launch Bookmobile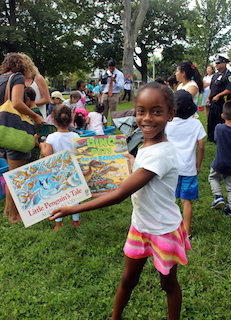 Ossining families that visited Nelson Sitting Park on a recent morning went home laden with books on fairies, dinosaurs, penguins and other creatures, thanks to the "Ossining Loves to Read" Bookmobile.
With the help of United Way of Westchester and Putnam, the Ossining School District converted its delivery van into a mobile library and stocked it with children's books donated by the Ossining Girl Scouts and other community organizations. Ossining Superintendent of Schools Raymond Sanchez and United Way President and CEO Alana Sweeny unveiled the bookmobile on August 28.
"It is important for us to all understand that reading is essential to a child's success," said Sanchez.
Summer Academy Students create visions for revitalizing Ossining
Roughly 125 students in the Anne M. Dorner Middle School Summer Academy developed ideas for improving Nelson Park as part of the "Revitalize Ossining" project.
Their proposals ranged from the practical – more garbage cans and a new drinking fountain – to the whimsical – a pool for dogs. Other students suggested a rope course, a soccer field, a water park, a small store that sells healthy food, a performance venue and a skateboard park.
August Scavenger Hunt introduces pre-Kindergarteners to Park School
Dozens of soon-to-be pre-kindergarteners took part in a scavenger hunt at Park School the morning of Aug. 24, learning where the cafeteria, gym and library are located, and easing any anxiety about starting their Ossining education.
Forty families also spent Aug. 21 to 23 at Park School in a program called "Countdown to Pre-K," which helped them get acclimated to the new environment.
Ossining MATTERS Education Foundation's 15th Annual Run/Walk a success
Hundreds of Ossining UFSD supporters participated in the Ossining MATTERS 15th annual 5K Run/2 Mile Walk September 9. The nonprofit, created in 2003, strives to enrich education by funding projects and learning opportunities outside the scope of the school budget. Ossining MATTERS gave out nearly $53,000 in grants for the 2016-17 school year.
Ossining construction projects prep district for the fall
The Ossining school district completed several important construction projects and other improvements before welcoming students for the fall.
These included: Finishing the new art suite and painting most of the classrooms and hallways at OHS; renovating classrooms and creating new guidance offices at Anne M. Dorner Middle School (Open Door Family Medical Centers completed renovations to its space at AMD); installing a new floor in the gymnasium and expanding the nurse's office at Roosevelt School; installing a new roof at Brookside. Ossining anticipates starting a classroom addition project at Park School later this year.
Ossining's Anne M. Dorner Middle School unveils Kindness Mural and Giving Tree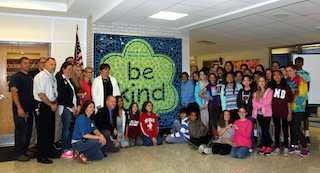 A shiny green, blue and black mosaic mural – a green flower with the words "be kind" in the center, surrounded by blue tiles – stands as a beacon in the lobby of the Anne M. Dorner Middle School, conveying to the school community that kindness, courtesy, tolerance and understanding are expected and practiced in the building.
After the unveiling of the mural in late June, students taped notes on a "Giving Tree" on a cafeteria wall about what they could do to promote kindness. The AMD PTA supported this part of the project.
Family to Family event
Dozens of families recently attended a Family to Family welcome party for newcomers at Park School, where they met other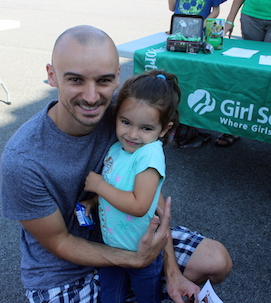 parents and children, learned about local organizations and took a bus tour of Ossining.
They spoke with representatives of Open Door Family Medical Centers, Girl Scouts, Boy Scouts and other organizations, and signed up for library cards at the Ossining Public Library table. The next step in the Family to Family program is to match up new families with those that have experience in the district and can assist the newcomers.