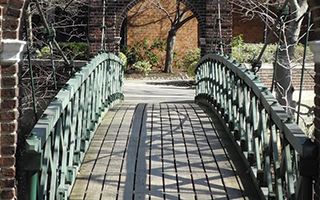 River Journal printed Part I of this story in its December "Holiday Issue." To read the article please click here.
Recognizing the financial needs of students, scholarships through Douglass offer extraordinary experiences in international study and travel, research funding, help with tuition costs, and national leadership networking.
"Last year we awarded almost 400 scholarships totaling near a half million dollars," notes Ellen Lieberman, Dean of Recruitment and New Student Programs at Douglass.  "This included scholarships for incoming students to assist with fees, as well as general scholarships for sophomores, juniors and seniors.  Also, through a generous donation from an Alumna in combination with Federal and State grants, two incoming students were able to benefit from a scholarship that is enabling them to live on campus all 4 years and graduate in 2017, debt free."
A donor gift paid the way for 25 students to travel to Thailand for service work on the trafficking of women and girls. Donor gifts also support students to study abroad and to participate in other unique opportunities.
Another signature program, also paid for with scholarship money, allowed students to participate in "Douglass in D.C : Public Leadership Education Network" (PLEN) for residency in the nation's capital on major areas of public policy. These residency programs introduce students to the variety of careers in policy and connect them with leaders in the fields.
As part of the surround-sound support of women at Rutgers, Douglass offers one-of-a-kind advising and mentoring resources.  Through ongoing dialogues throughout all years at college, Douglass advisors help students clarify interests and goals, while also helping to make connections to academic advisors, resources and/or co-curricular programs.
Special programs, housing, advising, and scholarships are also designated for incoming adult students who have graduated from high school five or more years ago.  Carol Baillie, a 28-year old student in the Mary I. Bunting Program for non-traditional
students at Douglass, is one of ten U.S. Veterans featured in a 60-minute documentary, "The War After: Combat to Campus" (thewarafter.rutgers.edu). Currently in filming, the documentary is scheduled for release in 2014.  In the film, Carol talks about her decision to leave college and join the U.S. Coast Guard (USCG) at age 20, followed by the ups and downs of transitioning from "high performing military member to college student," with only 10 days in between those worlds.
Before joining the Bunting Program at Douglass in Spring 2012, Carol served as an active duty USCG petty officer for over six years. After completing training as a marine science technician, she was assigned to the Atlantic Strike Team—an elite Coast Guard unit that specializes in hazardous materials, weapons of mass destruction and oil spill response. At one point, she led 22 personnel from three National Strike Force units in response to the Enbridge oil spill in Marshall, Michigan, the nation's largest inland oil spill.
During her first semester at the Rutgers School of Environmental and Biological Sciences (SEBS), Carol joined the Douglass Bunting Program, which provides specialized support and individual advising to mature women students who are pursuing college degrees later in their lives and careers. "What really attracted me," says Carol, "is that unbelievable sense of community that Douglass offers," which helps her feel supported and understood as a non-traditional student at Rutgers. "At a school like Rutgers, which is so large, being part of Douglass is like being part of a family." In addition to her interaction with the Douglass deans and other mentors, Carol particularly appreciates the Bunting Lounge—located at the Douglass Campus Center and open solely to Bunting students—which she calls "a phenomenal resource, a quiet space where I get to connect with fellow non-traditional students." 
Douglass thanks Veterans such as Rutgers/Douglass student Carol Bialle.
To learn more about Douglass Residential College at Rutgers University, visit douglass.rutgers.edu; email visitdc@echo.rutgers.edu; call 848-932-2541; Facebook, Douglass Residential College; Twitter, @RUDouglass; Instagram, RUDouglass.
Fast Facts about the Douglass Residential College close-knit community at Rutgers, New Brunswick:
Women undergraduates from any Rutgers–New Brunswick school can enroll.
A small community at Rutgers – just over 2,000 students.
Open to residential and off-campus students.
Special scholarships are available to students for international travel, science education, graduate study, and tuition support.
Mary I. Bunting Program: For students returning to college and includes a small residence hall, peer advising, career planning, and a lounge for commuting students.
Douglass Traditions include: the annual "moving-up-of-the-classes" Sacred Path celebration, Yule Log ceremony, Fall Convocation welcoming new students and their families, and Convocation, a ceremony for graduating seniors that takes place the day before Rutgers' commencement.