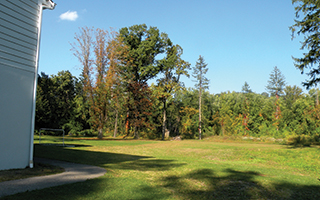 Hurricane Sandy has given the town of Briarcliff Manor a gift!  A new utility/sports practice field will soon be created behind the Youth Center at 5 Van Lu Van Rd.
According to Village Manager, Phil Zegarelli, this will be "the convergence of two stories…one solution to two problems."
The first story has to do with the destruction of between 34 and 37 trees in the wooded and marshy area behind the youth center.  Hurricane Sandy ripped through the woods, uprooting many of the mature growth pine trees as well as others. These were all documented by FEMA and the Village had insurance as well.  Briarcliff has decided to put this "windfall" towards building a new practice field in the area where the trees fell, thereby helping
to alleviate the overuse of the current sports fields available.  That is the second story.
[blockquote class=blue]Hurricane Sandy has given the town of Briarcliff Manor a gift![/blockquote]Playing fields in Briarcliff are currently at a premium.  They are used for both practice and games.  They get pretty beaten up due to the high sports participation by Briarcliff kids. The town is constantly trying to figure out how to maintain the fields so that they are game-ready.  They want to stretch out the longevity of the playing fields, which they currently do by such techniques as cross seeding the fields and switching goal locations.
The idea for the 180'x210' practice field, to be located 15 to 20 feet from the bottom of the back porch stairs of the Youth Center, is to make it available for all sports with no fixed backstops or goal posts, and used for practice only.
The insurance proceeds will be used to remove a few more trees, plant additional trees on the perimeter and create a nature trail/walkway nearby.  Several high school students were alarmed when hearing about the new fields because there is currently a popular nature path behind the Youth Center.  They were afraid the trail would disappear.  They were relieved upon finding out that a trail is planned for the area as well as the new field.
The Village had been waiting for approval from the New York Department of Environmental Conservation before they could begin. According to Village Manager, Phil Zegarelli, "We had been waiting for some time on the approval of the DEC and wouldn't you know it, on the very anniversary of Hurricane Sandy, the approval came through. It was meant to be."
Briarcliff will begin the rehabilitation process of the area as soon as it can and hopefully the field will be ready by next spring.