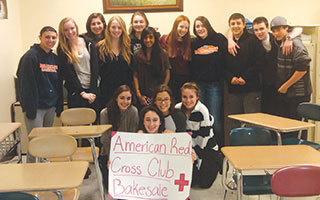 On December 30, 2012, Eileen O'Connor Weber died at the age of 94. Affectionately known as "Mrs. Briarcliff," Eileen epitomized a life dedicated to public service.  She was a lifelong resident of Briarcliff Manor with a remarkable wealth of knowledge about the history of the Village.
She went through the Briarcliff school system, and when she was unable to afford tuition for college, Walter Law, the founder of Briarcliff Manor, paid for Eileen to go to college.  He had determined that she deserved to go and provided her with the wherewithal to do so.  Mr. Law set the tone for Briarcliff being a community of people who cared for one another by his generosity to her and to many others.
Eileen was known for her informative and colorful bus tours of Briarcliff Manor which she volunteered to do for the Briarcliff Historical Society. She was at one time the President of the Historical Society and also served on its Board. In addition to being a realtor at her own firm, Weber-Tufts Real Estate, she volunteered as a booster and fundraiser for Phelps Memorial Hospital, the Junior League, The Easter Seal Society of Westchester and the Cystic Fibrosis Foundation.  We were very fortunate to have Eileen be a part of our community for as long as we did.  She was an inspiring example of service to the community.
Sometimes it takes a reminder such as the tragedies of Hurricane Sandy and the shootings in Newtown, CT to remind ourselves that Briarcliff Manor and the surrounding communities are like extended families that take care of each other in difficult times.  Communities, like families, need attention and nurturing to thrive.  The whole concept of civics concerns the responsibility of citizens to participate. That participation includes local government and, I might argue, the greater well-being of the citizens within Briarcliff and the surrounding towns.
Our current culture makes it increasingly tempting to work, stay at home and tend to our personal families, all the while entertaining ourselves with a tangle of mesmerizing electronics.  Civic responsibility has been relegated by many to the bottom of the to-do list, in part because we perceive of it as just one more thing that takes time and effort.  Let's face it – we're all busy.  I think that it is worth taking the time to stop for a minute and ask ourselves whether we are busy with things that add up to a high caliber of life – for us, for our families, and for our community.
The value of community service is well documented.  It increases our sense of purpose and well-being.  We can use our skills and strengths to improve the lives of those around us. Volunteering can also be selfish and there is nothing wrong with that!  It can expand our skills, allow us to network with others, experience camaraderie and find new friends.  We can explore interests and put down more credentials on our resumes.  We can also build family strength by volunteering together.  Historically, communities would come together and help each other build their houses and barns. They were intimately involved with the issues they faced as a community.   Does our neighbor need help? Do we know our neighbors?  Do we really know what goes on in local government?  Are we good citizens? These are important questions to ask ourselves this year.
As a means to create good citizens for the future, Briarcliff High School requires that students volunteer for eight hours of community service for each year they are in high school.  We can learn a lot from these students who, after grumbling that they can't fit more work into their schedules of academics, sports, clubs, religious commitments, and mountains of homework, find that when they do they are rewarded for their efforts far more than they expected.   Many students have inspired us by creating their own community projects, including fund-raising for a sick child in Briarcliff. Diane Guida and Diana Blank, who are in charge of the Briarcliff High School Community Service program, are continually amazed at the creativity and commitment the students show in helping others.  A list of student volunteer opportunities is listed on the high school website. Go to www.briarcliffschools.org, click on the high school under the schools tab and then on the community service link on the left. You can also call them at 914-769-6299. Diane Guida is at ext. 8442 and Diana Blank is at ext. 8379. If you have volunteer opportunities available for high school students, please feel free to call them.
This is the year to do something, even a little something.  If nothing else, get out and vote in the local elections. Next year, why not run for office, or join the fire department next week?  We can do this! What kind of person do we want to be? What kind of Briarcliff Manor do we want to live in?
BRIARCLIFF VOLUNTEER OPPORTUNITIES
Briarcliff Manor Fire Department: Join the fire department as a volunteer. Serving the community for 100 years, volunteers are at least 16 years old. They are mothers, fathers, sons, and daughters, lawyers, plumbers, and bankers. All are welcome. Call the Chief at 914-941-0879 or e-mail them at BMFDmembership@BMFD.org
Briarcliff Garden Club: membership organization welcomes anyone interested in plants and flowers, community beautification and the option of volunteering to provide horticultural therapy to local nursing homes. The club meets the second Wed. of each month from 11:45-2:00. Sept-June. Call Terry Marchica at 914-432-8529 or email: BriGardenClub@gmail.com
Briarcliff Manor and Scarborough Historical Society: currently looking for a volunteer to serve on the board as secretary and another volunteer with a finance background. The Society is located in the basement of the Briarcliff Library. Call Karen Smith or Jan Wagner at: 914-941-4393.
Briarcliff Manor Public Library: lots of opportunities for volunteering. Contact them at 914-941-7072.
The Briarcliff Manor Rotary Club: Their goal is to "foster the ideal of service.. promote high ethical standards in business….and the opportunity to serve society." P.O. Box 260 Briarcliff Manor, NY. 10510. 914-762-6807
Briarcliff Manor Community Coalition: supporting Parents: empowering teens. email: info@briarcliffcommunitycoalition.org
Boards and Commitees
The following commitees can be contacted through the Village Hall, 111 Pleasantville, Rd Briarcliff Manor, 10510. 914-941-4800. Volunteer applications are available online at www.briarcliffmanor.org Village Trustees and Mayor Architectural Revue Advisory Council Beautification Committee Conservation Advisory Council Ethics Board Media and Communications Planning Board Recreation Advisory Committee Tree Preservation Board Zoning Board of Appeals
Animal Care
SPCA of Westchester: There are many ways for to volunteer at the shelter, located right in Briarcliff Manor. Opportunities include pet sponsorships, Golden outreach, adoption events, special events, shelter beautification, and fostering. For more information go to: www.spca914.org, email Alice Shanahan at alice@spca914.org or call 914-941-2894 ext. 28.
Guiding Eyes for the Blind: Youth under 18 can participate off-site in Home Socialization program, taking two puppies home for 3-5 days, introducing them to the home environment (1 year commitment.) You can also organize a collection drive of used but clean newspapers for puppy training. Volunteers 18 years and older may apply for summer internship program at the Training School in Yorktown Heights. Apply early as positions fill up. For more information contact Katie Scott, 914-243-2243 or kscott@guidingeyes.org.
Athletics
Briarcliff Recreation: Opportunities to assist with camp related activities and town recreation sports leagues. Also you may volunteer to help out with Recreation Dept special events. For more information contact Kyle Peterson (kpeterson@briarcliffmanor.org) or Karen Kuzio (kkuzio@briarcliffmanor.org) or at 914-941-6560.
Miracle League of Westchester: Highschool age player "buddies" needed to assist physically and developmentally disabled youth and adults in playing baseball. Games held Spring/Fall. Contact buddy coordinator Stephen Madey at smadey@mlwny.org for more information, or go to http://www.mlwny.org/.
Children's Programs / Centers
Blythedale Children's Hospital: Minimum age requirement to volunteer at the hospital is 16 however there are many opportunities to support the patients through outside projects (Kids for Kids) and there is no age requirement to get involved in this manner. For more information on in-hospital volunteering or a list of the Kids for Kids projects contact Jabeen Dinzey at 914-831-2428 or jdinzey@blythedale.org or go on line: www.BLYTHEDALE.org.
Children's Hospital at West. Med Center: Contact the foundation office for a list of upcoming events/activities that could use volunteers: 914-493-2575.
Ossining Children's Center: Located right around the corner at 90 South Highland Avenue, Ossining. Day care for children ages 6 weeks to 11 years. There are opportunities to volunteer your time in the center working directly with the children. Also consider organizing a collection drive, anything from books/toys to clothing or sports equipment. For more information call Gerri DeSilva at 914-941-0230 ext. 15.
Letchworth Developmental Disabilities Services: This is an agency of NY State Office of Mental Retardation and Developmental Disabilities. They have a "Kids Just Want to have Fun" program. Do you love to shop, look through catalogs? Are you into fitness and aerobics? You might just be the person they need to be a volunteer fashion/fitness consultant to a youngster with developmental disabilities. Contact the volunteer coordinator at 845-947-6337. Volunteer projects in Briarcliff, Ossining or Tarrytown.
Make a Wish Foundation: Make a difference in the life of a Hudson Valley child by volunteering through this organization. For a list of specific volunteer opportunities contact The Wish House, 828 South Broadway Tarrytown, New York @ 914-478-9474.
WeeZee…World of Yes I Can! is a Health Club for Kids with a focus on sensory experiences, the Pro Zone with high tech equipment to improve athleticism/eye hand coordination, an indoor spray ground, and multiple areas for the arts. Volunteer opportunities include working 1:1 with a child (age of 4 – 12), birthday party & special event helpers, after school zone and holiday day camps. Volunteers needed 2:30pm – 9PM Monday thru Friday AND weekends. Contact Liz Crecco, lcrecco@weezeeworld.com or (914) 752-2100 Ext 5044.
Westchester Children's Museum: Help the Museum in its efforts to raise awareness and funds. There are many opportunities for volunteer involvement. Contact Pat Caruso, 914-421-5050 or volunteer@discoverWCM.org
Developmental Needs Programs
Bernstein House for the Developmentally Disabled: is a group home in Ossining that has primarily Jewish residents. They provide a Shabbat service one Friday a month, and have other activities with which you can become involved. Contact Donna Bernstein @ 962-0157.
Richmond Community Services: Opportunities to work with developmentally disabled adults in Westchester. Help to organize themed parties, run recreational activities or simply volunteer your time to sit and talk, read or play games. For more information contact Diane Yesko at 914 968-1900 or go on line: dyesko@richmondcommserv.org.
United Cerebral Palsy: Assist handicapped children ages 5-21 in a variety of ways. Contact 914 937-3800 X233 and as for the volunteer office.
United Way of Westchester: The office located on Westchester Ave. will schedule an interview for prospective volunteers (must be 14 or older). This will better enable them to gauge interest and make a suitable placement. Contact: 914 948-4452. website: www.uwwp.org
Wagon Road Camp: A camp for handicapped children in Chappaqua, New York. Year Round weekend program. To volunteer call: 914 238-4761.
SPARC (Special Program and Resource Connection): a not-for-profit agency providing social, recreation, and therapeutic services for youth and adults with developmental disabilities. Find more information on the website http://www.sparcinc.org/ , and click on the "Contact" link to sign up to volunteer. Or contact Patti Colombo at patti@sparcinc.org . Volunteer Application can be found on our website under Friends of SPARC tab.
Health Care related Activities
Aids Related Community Services (ARCS): Located on Rte 9A in Elmsford, this agency seeks student volunteers to help with clerical duties, sort/organize food and clothing donations and if over16 provide babysitting services in the evenings. For more information call 914 785-8214.
Ambulance Corps – Briarcliff Manor Fire Dept: volunteers are needed to help out in a number of areas. For information e-mail Joan Dengler at joan.dengler@bmfd.org.
American Red Cross Club: This BHS club works to raise monies and awareness for the American Red Cross through fundraisers, food drives, holiday activities, collections, etc. For more information, contact the club advisor, Karen McCarthy at kmarthy@briarcliffschools.org
Westchester Medical Center: This large teaching hospital has exciting opportunities for you to gain exposure to a wide range of health related career options. Volunteers needed in the admitting dept, the heart center, transportation & communication, the patholology lab, and recreational therapy. Call the Volunteer Office at 914 493-7850 or 914 493-7811.
Ossining Open Door is a family medical center with a variety of volunteer opportunities for high school students. They are always looking for volunteers for their Reach out and Read program in which volunteers read books to kids in the lobby of the medical center while they're waiting to be seen by a doctor. Students can also help by providing office support or by organizing a holiday toy drive, a wrapping even or a children's book drive. For more information contact Alicia Ward at award@odfmc.org or at 914-502-1468.
Leadership, Business and Careers
Briarcliff Manor Education Fund: Volunteers needed to assist with fundraisers, office work and community mailings. BMEF, P.O. Box 132, Briarcliff Manor, NY 10510
Career Closet-Welfare to Work Foundation-Provides clothing to wear to job interviews and for office work to those seeking to transition from public assistance; Sat. morning at The Briarcliff Congregational Church at the corner of Elm and South State Rd. Volunteers welcome to help out on Sat. morning call Holly Von Burneth at 914-944-1472 and leave a message.
Key Club (Kiwanis Educating Youth): Key Club is a coeducational service organization for high school students, organized and sponsored by local Kiwanis service clubs. A self-governing organization, it elects its own officers, determines its own service activities, and establishes its own dues structure. Some objectives include: Developing initiative and leadership; serving the school and community; and developing a more intelligent, aggressive and serviceable citizenship. Link: www.keyclub.org/index.htm.
National 4H Council: 4-H is a youth development program administered through the Land Grant college system. It promotes "Learning by Doing" and the development of youth leadership skills for the future. The 4H Council is the private sector nonprofit partner of the 4H chapters and it works with clubs at the national, state and local level. The council looks to provide training and support, foster innovative programming and facilitate meetings and connections within the 4H system. Link: www.fourhcouncil.edu.
National Foundation for Teaching Entrepreneurship: NFTE' s mission is to teach entrepreneurship to low-income young people, ages 11 – 18, so that they can learn more about becoming productive members of society by improving their academic, business, and life skills. NFTE programs are offered in a variety of settings, including public schools, after-school community based programs and intensive summer business camps. For information go to: Link – www.nfte.com.
Leadership/Advanced Leadership: Joining the leadership or Advanced Leadership class will satisfy your community service requirement for one year. Credit is not automatic however, students must submit log sheet (showing hours and approval of instructor) to guidance counselor or Ms. Gallagher.
Reading/Tutoring: If reading is a favorite pastime for you, put your pleasure to work at a senior residence, Todd School or day care center. You can also volunteer to help students with homework or tutoring. Contact Ms. Gallagher at egallagher@briarcliffschools.org to get started.
Senior Care
The Atria: Pleasantville Road, Briarcliff. Many opportunities/flexible hours. Contact Gloria Mazurek at 914 923-4400 X226.
Bethel Methodist Home: in Ossining. Students (16 or older) will assist in transporting residents to and from activity programs, help to lead various activities and serve refreshments. Contact Laura Bradigan: 914 941-7300.
Brandywine Nursing Home: Sleepy Hollow Road in Briarcliff. Contact Jeanne Naft, volunteer coordinator at 914 941-5100
Cedar Manor Nursing Home: Located on Cedar lane in Ossining. Call 762-1600 and ask to speak with the activities coordinator.
Maryknoll Sisters Eden Community: They sponsor an internship program in July and August to learn new skills, have fun and make a difference in the lives of the senior population. For more information call 914 941-0783 X5630
Senior Community Coalition (Dominican Sisters Family Health Services): 229 North Highland Ave. in Ossining. The group's mission is to assist local senior citizens in their goal to remain safely in their home. Youth volunteers are needed for in home visits, telephone support, letter writing, yard work, senior escort, snow shoveling etc. Volunteers are trained, supervised and support is offered on an on-going basis. Call the Volunteer director, Jeanne Gibson for more information: 914 941-1951.
Somers Manor Nursing Home: The Activity Director, Joanne Nelson, has many types of interactive projects for students. Call her for details: 914 232-5101.
Programs for the Underprivileged
Family Services of Westchester: Oversees four homes/services in Westchester, including Maple House, a low-income residence for seniors in Ossining. Contact Gerry Goldberg, Outreach Coordinator at ggoldberg@fsw.org or 914 937-2320, ext. 134
Midnight Run: Evening trips to NYC to distribute clothing and food to the homeless. Contact Mr. Dale Williams at 693-7817 or go on-line: www.midnightrun.org.
New Beginnings: Located on the lower level of the Ossining Open Door, 165 Main St. Ossining. This organization helps homeless families move into permanent housing and independence. Help sort donations and make up welcome baskets. For volunteer information contact Laura Lilienfield at 591-7564.