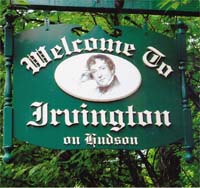 River Journal welcomes our Irvington Neighbors
For the last 8 years River Journal has been mailed monthly to every household, business and post office box in Tarrytown and Sleepy Hollow. From the outset, our philosophy was to have a community publication that everyone received.
With this June issue we want to extend that courtesy to Irvington residents and business owners as well.
The proximity of our borders allows for a great crossover between Tarrytown and Irvington, much in the same way in which Tarrytown and Sleepy Hollow have benefited. Tarrytown children south of White Plains Road (Rte. 119) attend the Irvington schools. Tarrytown and Sleepy Hollow residents work, visit, shop and dine in Irvington. People from Irvington do the same and have found a vibrant downtown business district in Tarrytown and historical sites in Sleepy Hollow. The richness of Washington Irving's "Legend of Sleepy Hollow" along with the restoration of historical sites, link our communities by a single road, Route 9, which in the not-too-distant past was known as the Albany Post Road. Stagecoaches carrying the post and passengers stopped at Jonathan Odell's tavern, in what was to become Irvington. Indeed, our communities are replete with historical significance that attracts visitors from around the world.
Today, Sleepy Hollow, Tarrytown and Irvington are faced with the challenges of being historical river towns in a real-time world. Each municipality is at work holding onto the quaintness that makes village life appealing. Factored in is how much or how little growth do residents want? How do villages work to create and maintain a vital business community serving residents and attracting visitors, while competing with mega-malls? What about strengthening the sense of community through schools and organizations and the personal costs in money and time required to do so? Yes, each village is different and yet similar.
River Journal welcomes input from the residents of Irvington as it has from its readers in Tarrytown and Sleepy Hollow. This publication is best used to keep people informed, promote special events, strengthen the business community and provide an eclectic array of articles, written by the very people we call neighbors. To our new readers in Irvington we extend an invitation to contribute to River Journal. We will do our best to be aware of newsworthy events and report them. We can be contacted by mail, email and telephone ( see page 5). For a more in-depth look at our publication, visit us online at:
www.riverjournalonline.com.
We hope you enjoy this issue, which contains avariety of stories. Next month, our goal will be to write about Irvington as well.
Sincerely,
Robert Bonvento
Publisher