Winter Stillness: Guided Forest Bathing Session
January 14 @ 1:00 pm

-

3:00 pm

$30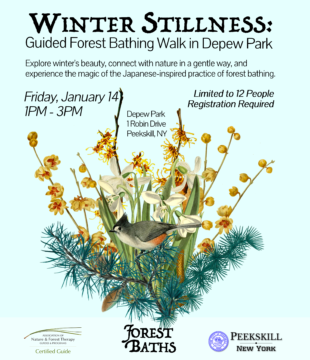 Explore winter's beauty, connect with nature in a gentle way, and experience the magic of the Japanese-inspired practice of forest bathing.
We'll explore the forest and connect with nature through a slow-paced, easeful sensory exploration based on the Japanese practice of Shinrin-yoku ("forest bathing"). Decades of studies have discovered a wide range of health benefits associated with this practice, including stress relief, better sleep, lowered blood pressure and inflammation, and improved immunity.
Your trained and certified guide will lead the way, offering optional invitations designed to help you step into your own authentic way of being in the outdoors.
When we intentionally slow ourselves down and awaken our senses, we can find a sense of connection with parts of ourselves and the natural world that we may not have even noticed we were missing.
All are welcome. No special skills or equipment required. We'll cover under 1 mile in distance total, taking plenty of seated breaks along the way for our invitations. Consider this a mini-retreat for the mind, body, and soul.
Visit www.ForestBaths.earth to learn more.
"Forest therapy walks are so regenerative and soothing. I feel genuinely destressed, energized, and in a better mood. Additionally, Fru is an amazing guide! She is very welcoming and fun and made it easy to relax into the experience." — Past walk participant
🌿 🌲 Come and sit — we will hold space for you. 🌲 🌿
NOTES FOR ATTENDEES:
Covid-19 Protocols:
Because this is entirely an outdoor event, masks are optional, but encouraged. All attendees are asked to maintain 6 feet of distance between yourself and all other parties.
This event will be limited to 12 participants.
Do not attend if you are exhibiting symptoms or aren't feeling well within two weeks before the event.
Anyone who develops symptoms or tests positive for Covid-19 within two weeks after the event are asked to inform the guide as soon as possible.
Ages: This experience is designed for adults (18+).
Arriving and Parking: There are parking spaces available at Pomeroy St / Robin Dr. Please arrive 10 minutes early to ensure you find parking, to use the facilities if you need to, and to sign our liability and release form.
Restrooms: There are free public bathrooms at Depew Park.
What to bring/wear:
– This is a rain or shine event, so please come dressed for the elements (extra layers, gloves, scarves, warm socks and waterproof shoes, etc). In case of truly inclement weather, we'll email you the day beforehand with options to rebook or refund. Otherwise pile on those layers and let's enjoy the brilliance of winter!
– A light bag or backpack for your possessions to keep your hands free
– Water bottle if you so desire