Westchester Big Latch On Day
August 2, 2019 @ 9:30 am

-

11:00 am

Free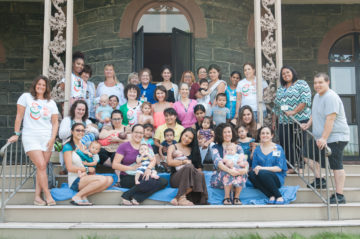 This Friday, Saturday and Sunday, August 2 through 4, Phelps Hospital will host the Global Big Latch On, a community breastfeeding meet-up that is part of a worldwide, synchronized event in 120 countries. Its purpose is to raise awareness of the benefits of breastfeeding.
Part of international World Breastfeeding Week (August 1-7), the Global Big Latch On provides an opportunity for breastfeeding women in our area to get together, share their stories, and identify opportunities for ongoing support. All breastfeeding women and their babies are welcome.
"The World Health Organization (WHO) recommends breastfeeding for the first six months of a baby's life because it contributes to the healthy growth and development of the child," said Yeva Posner, an RN and lactation consultant at Phelps Hospital. "Here at Phelps, we have one of the highest rates of breastfeeding in the state. It is one of the things that helped us earn the designation of Baby-Friendly Hospital, a recognition created by the WHO and UNICEF."
Phelps has hosted the Westchester Global Big Latch On for the past 3 years. Last year, about 50 people participated. Posner and her colleagues hope to break that record this weekend. The world record for the event is nearly 21,500 children breastfeeding at 778 locations across 28 countries.