Webinar: Nutrition for People with Breast, Ovarian or Gynecological Cancer
February 24 @ 8:00 pm

-

9:00 pm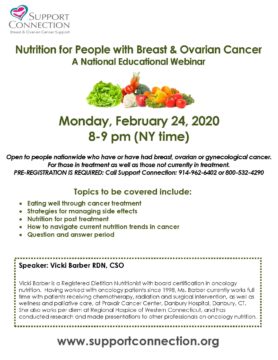 Open to people who have or have had breast, ovarian or gynecological cancer. To learn more or to pre-register (PRE-REGISTRATION IS REQUIRED) call Support Connection at 914-962-6402 or 800-532-4290.
This free educational webinar will cover the following topics pertaining to nutrition and cancer care: eating well through cancer treatment; strategies for managing side effects; nutrition for post-treatment; how to navigate the current nutrition trends in cancer care. The program will be moderated by a Support Connection Peer Counselor and will be include a question and answer period.
SPEAKER: Vicki Barber, RDN, CSO, Registered Dietitian Nutritionist, board certified in oncology nutrition. She began her career as a registered dietitian at Danbury Hospital in Connecticut where she worked on the oncology and surgical floors. She then expanded coverage to include outpatients in radiation oncology and medical oncology. She now practices full time in the Praxair Cancer Center at Danbury Hospital with patients receiving chemotherapy, radiation and surgical intervention as well as wellness and palliative care.