Webinar For Women With Ovarian Cancer
September 24, 2019 @ 8:00 pm

-

9:00 pm

Free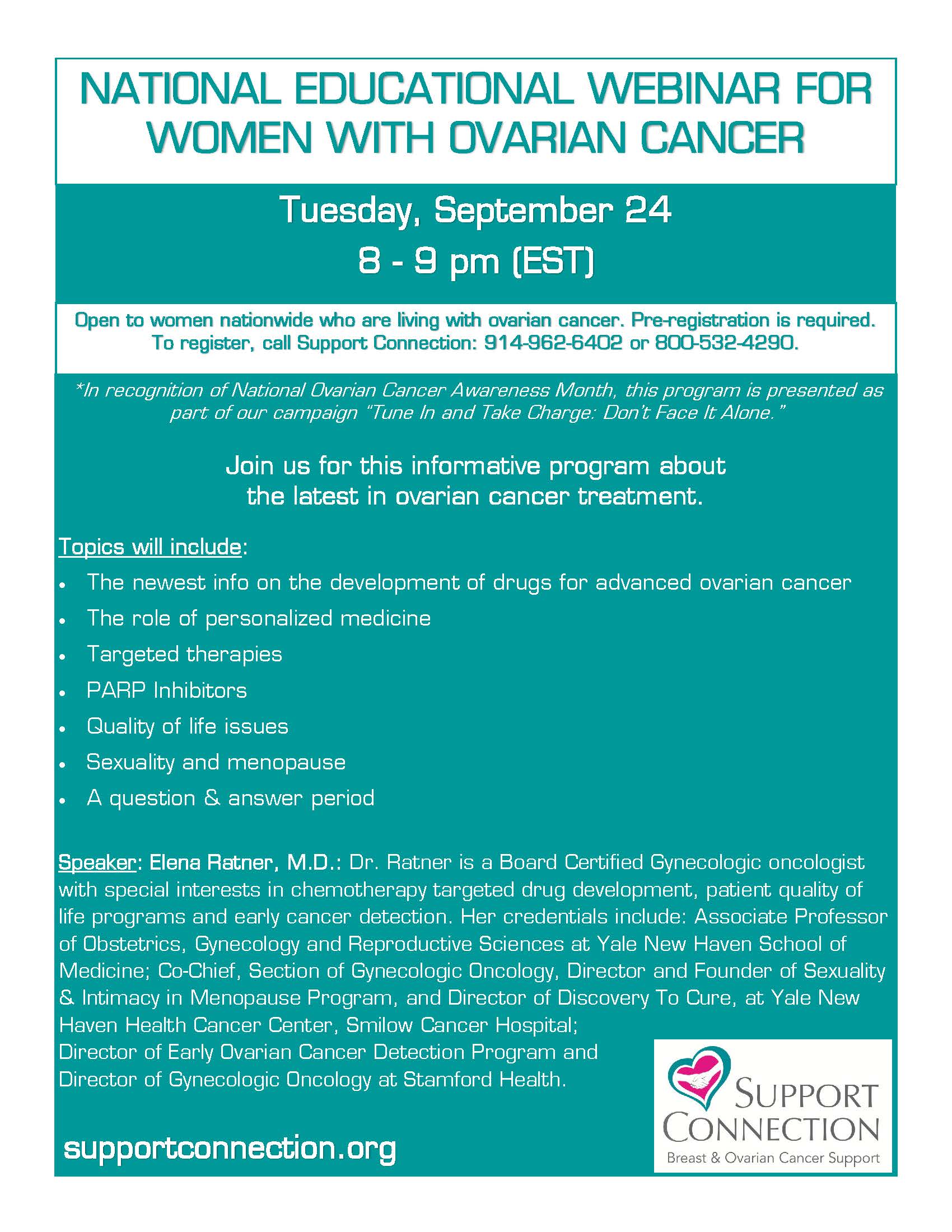 Support Connection announces a free educational webinar "Updates on Treatment for Ovarian Cancer." Open to women living with ovarian cancer. Participation is free but advance registration is required. Call 914-962-6402 or 800-532-4290.
Presented as part of Support Connection's annual "Tune In and Take Charge!" campaign to build awareness of ovarian cancer signs and symptoms, to encourage women to self-advocate for their own health, and to give women the tools they need to take action. Held in September in recognition of National Ovarian Cancer Awareness Month.
TOPICS: The newest information on drugs for advanced ovarian cancer; the role of personalized medicine; PARP Inhibitors; quality of life issues; sexuality and menopause. Q & A period to follow.
SPEAKER: Elena Ratner, MD. Dr. Ratner is a Gynecologic Oncologist with special interests in chemotherapy targeted drug development, patient quality of life programs and early cancer detection. Her credentials include: Associate Professor of Obstetrics, Gynecology and Reproductive Sciences at Yale, New Haven School of Medicine; Co-Chief, Section of Gynecologic Oncology, Director and Founder of Sexuality & Intimacy in Menopause Program, and Director of Discovery To Cure, at Yale New Haven Health Cancer Center, Smilow Cancer Hospital; Director of Early Ovarian Cancer Detection Program, and Director of Gynecologic Oncology at Stamford Health.