Volunteer for Pitch in For Parks!
April 19, 2021

-

April 24, 2021

Free Volunteer Event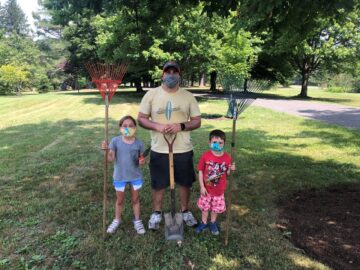 Each year, Westchester Parks Foundation and the Westchester County Parks Department host Pitch in for Parks. It is our largest volunteer event which falls around Earth Day! This year Pitch in for Parks is April 19-24.
Volunteers will paint, rake, prepare and plant flower beds, clear trails and shorelines, restore wildlife habitats and remove invasive vines from trees. Join in this community effort and help us clean up one of Westchester's most valuable assets!
All tools will be provided but please bring your own water. VOLUNTEERS MUST ARRIVE ON SITE WITH THEIR OWN MASK & PRACTICE SAFE SOCIAL DISTANCING. Volunteers should wear clothes that can get dirty and closed toe shoes. Pre-registration is required.
Projects will take place at the following locations throughout Westchester County Parks:
*   Monday, April 19 – Pitch in For Parks Kick Off, Lenoir Preserve, Yonkers
*   Tuesday, April 20 – Edith Read Wildlife Sanctuary, Rye
*   Wednesday, April 21 – Willson's Woods Park, Mt. Vernon
*   Thursday, April 22 – Earth Day Celebration with local businesses
*   Friday, April 23 – Cranberry Lake Preserve, North White Plains
*   Saturday, April 24 –Blue Mountain Reservation, Peekskill; Kensico Dam, Valhalla; Tibbetts Brook Park, Yonkers; and Bronx River Reservation at the Westchester County Center
For more information on how to volunteer for Pitch in for Parks, visit https://www.thewpf.org/volunteer/pitch-in-for-parks/
Click here to pre-register: https://www.eventbrite.com/o/westchester-parks-foundation-7926070818
Related Events