Virtual: 1st Annual Yorktown Youth Keeping the Dream: Celebrating Character, Kindness, and Thoughtful Service
January 17 @ 3:00 pm

-

5:00 pm

Free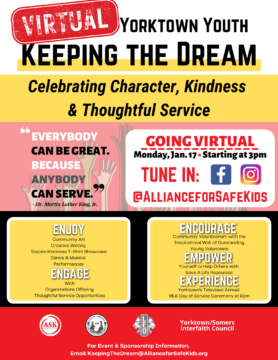 The Alliance for Safe Kids will be virtually hosting the 1st Annual Yorktown Youth Keeping the Dream: Celebrating Character, Kindness, and Thoughtful Service on Monday, January 17, 2022, starting at 3:00 pm. The free event is purposefully aligning with Martin Luther King Jr. Day. It will be the first of many youth-driven activities to celebrate character, kindness, and thoughtful service throughout the year. Join and share teens' voices through art, creative writing, dance, and musical performances, which will be transmitted virtually throughout the year.
In preparation for the 1st Annual Yorktown Youth Keeping the Dream event, Alliance for Safe Kids is collecting all forms of art, creative writing materials, music & dance performances to be shared virtually throughout the year and during the event on January 17th. If someone else created it, share the artist's name and why it moves you. If you created it, share your name, and let us celebrate you!
To learn more about the event, volunteer your talents, or become a sponsor, visit bit.ly/keepingthedream or contact KeepingTheDream@allianceforsafekids.org.
To watch the virtual event, please visit facebook.com/AllianceForSafeKids or instagram.com/allianceforsafekids.