Tune Your Ear to Nature and Live Music
August 22 @ 11:00 am

-

12:30 pm

$3 – $35.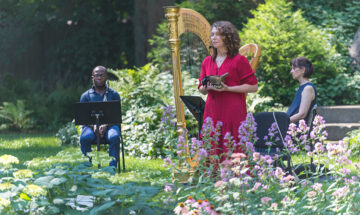 Elevate your Sunday morning with Tune Your Ear to Nature and Live Music with Beginner's Ear, an al fresco concert that tunes your ear to silence, nature, and music, leaving you feeling re-centered and inspired. Beginner's Ear was created by Corinna da Fonseca-Wollheim, a longtime classical music critic (contributing to The Wall Street Journal and The New York Times), in order to help audiences hear more and feel better. The 75-minute event begins with a short, guided meditation. Out of the resulting deep stillness, a half-hour performance of chamber music unfolds. A moderated question-and-answer time with participants and musicians closes the event.
Audiences have called Beginner's Ear a "transformative" and "cathartic" experience. With the stunning backdrop of Teatown Lake and its own deeply restorative world of sounds, this is sure to be a very special event.
Teatown has a history of live, outdoor music events on the preserve, including chamber music concerts in the 1970s and a concert by Pete Seeger in 1989. With this summer's cautious return to in-person gatherings after so many months of pandemic isolation, Teatown is delighted to welcome the community to this first of several live music events over the coming months.