True Fiction: A Masterclass in the Art and Craft of Nonfiction Storytelling with Mark Dery
November 24, 2019 @ 12:30 pm

-

4:30 pm

$124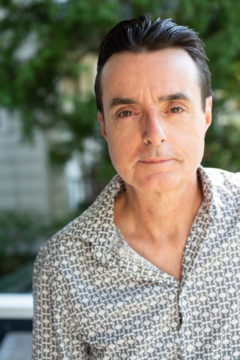 ​Hemingway rewrote the ending of A Farewell to Arms39 times. Asked what had stumped him, he replied, "Getting the words right." Is that what it takes to be a great writer?
Was Joan Didion right when she said that "grammar is a piano" you can "play by ear" but must be mastered, however you do it?
Do you agree with Martin Amis that euphony—the music words make—is the essence of literary style, and that the only way to achieve it is by saying a sentence "aloud" in your head, reworking it until it swings?
In this masterclass with author and essayist Mark Dery, we'll use questions like these to unlock the secrets of literary nonfiction
Whether you're an aspiring author stymied by the blank screen or a published writer of narrative nonfiction, personal essays, memoir, biography, or criticism, this in-depth but fast-moving day of lectures, discussions, writing exercises, and constructive critiques will give you the tools and confidence to take your writingto the next level.
Because "the essential thing for being a writer is being a good reader" (Christopher Hitchens), we'll practice the Art of Deep Reading, dissecting some of literary nonfiction's greats to see what makes their genius tick.
We'll explore a wide array of nonfiction genres, learning to take a literary snapshot of a person or a place, spin memories into narrative, make the reader laugh, and use the prism of our experiences to refract the profundity hidden in everyday life.
But we'll also borrow liberally from fiction's bag of tricks, as Ta-Nehisi Coates, Hunter S. Thompson, and Joan Didion have done, because why should novelists have all the fun?
We'll study—and practice—the techniques masters of the craft use to create voice, tone, mood, narration, description, exposition, and argument.
We'll learn strategies for demolishing writer's block and organizing the story we want to tell, or the argument we want to make, into a compelling, well-paced piece of writing. We'll drill down into sentence structure and zoom out to analyze the architecture of the work as a whole. We'll learn how to speed up or slow down a sentence and which two sentences are the most important lines in any piece of writing.
Along the way, we'll learn—and steal—from the best, cracking the codes that make great nonfiction great. We'll workshop each other's in-class efforts. Have spirited discussions. Come to a deeper understanding of this "spooky art" (Norman Mailer) that's such a profound part of who we are. And leave transformed as writers.
Mark Dery (http://markdery.com/) is a cultural critic best known for his essays on Afrofuturism (a term he coined) and culture jamming (a phenomenon he popularized). His byline has appeared in The New York Times, Rolling Stone, Elle, Wired,and Bookforum. He has been a professor of journalism at NYU and taught in the Yale School of Art. Dery's books include Escape Velocity: Cyberculture at the End of the Century (translated into eight languages); The Pyrotechnic Insanitarium, a study of America on the brink; an essay collection, I Must Not Think Bad Thoughts; and a biography, Born To Be Posthumous: The Eccentric Life and Mysterious Genius of Edward Gorey, named one of the Best books of 2018 by NPR, The Guardian, and Mental Floss.
Read some of Mark's work:
"Skin in the Game: An American Gothic, in Black and White," an essay on lynching and the murder of Trayvon Martin.
Strunk and White's Macho Grammar Club: "The no-frills esthetic of Modernism influenced the utilitarian mindset [of] The Elements of Style."
"A Season in Hell," an essay on the psychology of being a cancer patient and how being a writer kept the author sane in the face of a near-fatal disease.
"The Importance Of Being Ernest: Hemingway Meets The Gay Gothic," an essay on Hemingway's anxious masculinity.
Watch some of Mark's lectures:
"Nursery Crimes: Edward Gorey's Morbid Nonsense," Harry Ransom Center, UT Austin, February 21, 2019. Watch HERE.
"Waiting for the Zombie Apocalypse: American Dreams, American Dread in the Age of Uncertainty," at the University of California, San Diego, June 4, 2012. Watch HERE.
PHOTO CREDIT: Mark Dery. Photo: C. Taylor Crothers
Tickets for this 4hour intensive course are $124. Please register at
https://www.writerscenter.org/calendar/dery/​
**NYC writers: the HVWC is a short, scenic train ride on Metro North's Hudson line. We are located immediately at the Philipse Manor RR station. No car needed! Join us! ​