The Universal Monster Sequels Triple Feature
October 29, 2021 @ 6:30 pm

-

11:00 pm

$25 – $30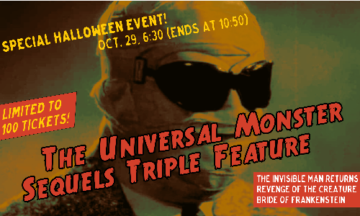 "I was disappointed not to be able to bring our audience the full-on JBFC Halloween Marathon experience again this year—fingers crossed for 2022!—but decided that if we couldn't have the Marathon in 2021, we should still have a little fun. Fun is, after all, what I think most folks are looking for as we all come back to the movies during this rough time. I started thinking about what entertaining (but light) horror films I could screen to bring everyone together and still have a great, and much shorter, night at the JBFC to celebrate what is—in my opinion—the best time of the year!
My thoughts finally drifted to the world of the Universal Monsters, and how there are a ton of these movies, but only very few get a lot of play. We've all seen Bela Lugosi do his thing as Dracula, and Lon Chaney Jr. run around the forest as the Wolf Man. But most of the original Universal Monster films received a fair number of sequels that never get much attention, so I put together this triple feature of some slightly underseen, but totally enjoyable, monster movies.
I also want to point out that we're keeping ticketing limited so folks can spread out in the big house and enjoy these three features without feeling too crowded, so be sure to scoop up your tickets ASAP. I look forward to seeing you all on the 29th!"
—Andrew Jupin, Senior Film Programmer
Films include: The Invisible Man Returns, Revenge of the Creature, and Bride of Frankenstein.
Related Events