THE LINCOLN CONSPIRACY: a discussion with author Josh Mensch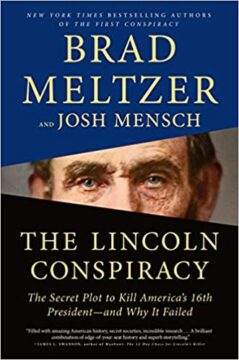 Friends of The Field Library is proud to announce that Josh Mensch, co-author of THE LINCOLN CONSPIRACY: THE SECRET PLOT TO KILL AMERICA'S 16TH PRESIDENT – AND WHY IT FAILED, will be in conversation on Thursday, February 18 at 7:00pm over Zoom. This event is free to the public.
The LINCOLN CONSPIRACY has reached #6 on The New York Times nonficiton bestseller list.
Josh is the co-author of another New York Times bestseller about American history: THE FIRST CONSPIRACY: THE SECRET PLOT TO KILL GEORGE WASHINGTON. In addition to writing books, Josh has been a documentary television showrunner, writer, and director, and producer.
Participants can register for this event at Eventbrite using the link below or search Eventbrite for "The Lincoln Conspiracy:"
https://www.eventbrite.com/e/the-lincoln-conspiracy-a-discussion-with-author-josh-mensch-tickets-131897227157:
The Friends will be selling autographed copies of THE LINCOLN CONSPIRACY for $29.99. All proceeds from the sale of the books will benefit The Field Library. A copy of the book can be arranged by contacting friendsofthefieldlibrary@gmail.com .
Friends of The Field Library is a 501c3 that supports The Field Library through community outreach and fund raising. The Field Library, located at 4 Nelson Avenue in Peekskill, New York, is the community library for the City of Peekskill and Town of Cortlandt, serving 60,000 residents.
For more information contact: friendsofthefieldlibrary@gmail.com