The Business of Podcasting
June 15 @ 11:00 am

-

12:00 pm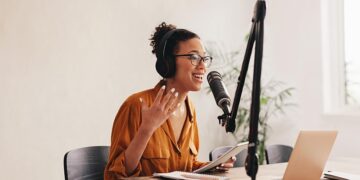 Free to all. What does it take to be successful in podcasting? Our panel of experts will swap stories, share advice, and answer questions.
About this event
Podcasts can accomplish many different goals—growing your personal brand, promoting an existing business, building a business around the podcast itself, or just exploring new ideas with inspiring people. But how do you find your audience? Who is listening? Who will pay to support it? How do you produce the content?
WE HAVE SO MANY QUESTIONS.
Thankfully, we know people with answers. From within the HudCo community and beyond, we pulled together a panel of professionals from the industry to speak candidly about the world of podcasting.
Introducing our panelists:
Rachel Swaby, Co-Founder, Reasonable Volume
Rachel is a recovering print journalist-turned audio producer. When she wrote for magazines, her work appeared in Wired, The Atlantic, The New York Times, The New Yorker, and others. Her feature for Runner's World on the journey of a man who ran around the world earned her a nomination for a National Magazine Award.
In 2016, she launched Runner's World magazine's podcasting arm. She was the creator and host of Human Race, a longform narrative podcast by Runner's World, and she helped develop The Runner's World Show. Rachel's also an author: Her first book, Headstrong: 52 Women Who Changed Science—and the World, was published by Broadway Books in 2015. Her second book (based on an episode of Human Race), is about a 13-year old girl who broke the women's marathon record in 1967. Mighty Moe: The True Story of a Thirteen-Year-Old Women's Running Revolutionary was published by FSG in October, 2019. Rachel registers a quiet volume, but she gives talks about women in science, appearing previously at the National Book Festival, MIT, Stanford, and on CBS' Face the Nation.
Doryn Wallach, Host, It's NOT A Crisis Podcast
It's Not A Crisis is a podcast for women in their late 30's and 40's who are navigating the joys and challenges of this crazy and infrequently discussed time of life and learning to make it positive! I encourage my listeners to participate actively in the dialogue by posing their own questions and having them answered openly and honestly by my guests, who include experts in their fields and some amazingly wise women over 50. By fostering the discussion, we can uplift women to clear the hurdles thrown at them at this time in their lives and embrace all that comes next.
Doryn is an award-winning fine jewelry designer and former interior designer, social worker, radio show host and lifestyle blogger. Feeling lost in her 40s, she started reaching out to her network of friends — including experts in beauty, health, parenting, fashion, business and more — to help find her path. Her podcast "It's Not a Crisis" was born when Doryn realized that her search for answers could help other women navigate their journeys as well.
Doryn holds an AA in interior design from New York's Fashion Institute of Technology and a BA in human services, counseling and sociology from Simmons College. She also studied social work at at NYU. Doryn lives in New York with her husband, teenage daughter and tween-age son.
Sara Weinheimer, Strategic Investor/Advisor, Founder of BroadMic
Drawing upon a deep background in finance, entrepreneurship, and social awareness, I currently hold a variety of investment and advisory related positions focused on gender equity and climate sustainability. Straight out of UC Berkeley, I joined a solar energy startup in San Francisco, a formative experience that sparked my strong interests in business and technology. During a fifteen-year career as a bond trader at Goldman Sachs, I formed strong connections with other female Wall Street professionals, which led to memberships in 85 Broads (now Ellevate), Golden Seeds, and Plum Alley. I have advised and invested in early stage technology companies, led financings, served on private company boards, and built a portfolio of over thirty companies, half of which are female-led technology startups.
In 2015, concerned about the persistent bottleneck in venture capital funding for female founders, I created BroadMic, a digital media publishing project featuring a podcast series of interviews with accomplished women entrepreneurs and investors. BroadMic scales their valuable advice to aspirational entrepreneurs.
Dave Zohrob, Co-founder & CEO, Chartable
Dave Zohrob is the cofounder and CEO of Chartable.com, the podcast analytics and attribution company. Chartable builds world-class podcast measurement tools for publishers, agencies, and brands including Wondery, Vox Media, iHeartMedia, and tens of thousands of other podcasters and publishers. Innovative ad agencies and brands rely on Chartable's innovative SmartAds podcast advertising attribution to properly assess the effectiveness of their ad spend. The company is backed by top investors including Initialized Capital, Greycroft, and Naval Ravikant.
Prior to cofounding Chartable, Dave worked at AngelList, where he founded AngelList's recruiting platform and NYC office. He previously cofounded two startups and worked as an engineer at Microsoft. He lives in Irvington with his wife and two daughters.