Tai Chi with Sifu Gary Renza
October 4 @ 7:00 pm

-

8:00 pm

$20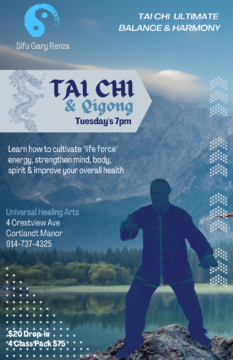 TAI CHI means "SUPREME, ULTIMATE BALANCE and HARMONY."
Tai Chi is one of the best known martial arts of the Internal systems from ancient China based on Qigong and Taoist principles.
Tai Chi originates from qigong, a discipline that has its roots in traditional Chinese medicine.
Tai Chi is often referred to as "meditation in motion" and involves a series of slow, meditative body movements and is one of the most effective exercises for the health of mind and body.
Qigong ("Chee -gung") is a way of cultivating and harnessing "life force" energy for health and healing, martial arts and peace of mind.
BENEFITS:
With proper instruction and regular practice, tai chi can be a positive part of an overall approach to improving your health.
•Release joint pain
•Release stress, anxiety and depression
•Improved mood and quality of sleep
•Improved immunity
•Increased energy and stamina
•Improved flexibility and balance
•Improved muscle strength and definition
About Sifu Gary Renza
"Sifu Gary Renza has been actively involved in the Chinese healing and martial arts for the past 30 years. He has competed in numerous tournaments, is a published writer, lecturer, herbalist and one of the most sought after teachers in the tai-state area.
Over the years Sifu Renza has received numerous awards for his excellence and perseverance in the Chinese martial arts. At the present time Sifu Renza is teaching in the Cold Spring and Cortlandt Manor regions in southern New York"
Related Events