Super-ish! Super Bowl Party Pack!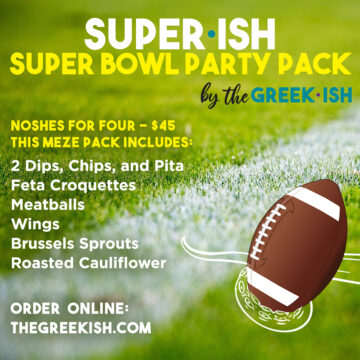 Get ready for the Super Bowl with The Greekish Super-ish Super Bowl Party Pack for Four ~ $45
This Meze pack includes:
2 Dips, Chips, and Pita
Feta Croquettes
Meatballs
Wings
Brussels Sprouts
Roasted Cauliflower
Place your order below. Once we receive your order, we will give you a call to confirm and collect payment.
Pick up game day:
Nyack: 8 North Broadway, 845-353-1200
Harrison: 273 Halstead Avenue, 914-732-3333
Orders must be in by Friday, February 5th.
Order now: https://forms.gle/gjY2kKh4XCS9hTZd8