Study & Take Notes Effectively: A ZOOM Learning Skills Workshop for Grades 6-12
February 27 @ 7:00 pm

-

8:00 pm

Free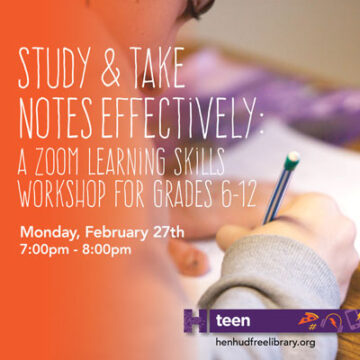 As young people progress from elementary to middle, and from middle to high school,
coursework becomes more challenging, but students often aren't taught the academic and
organizational skills they need to meet those challenges. In this workshop, master teacher and
Founder of Crimson CoachingTM, a boutique tutoring firm, Dr. P. (Dominique Padurano, Ph.D.)
teaches students key strategies for critically reading, note-taking, and studying for exams. She
also guides parents through how to effectively monitor and assist their children at home as they
experiment with these new techniques. Students should be accompanied by a parent and should
have a notebook and a pen or pencil on hand.
Dr. P., Dominique Padurano, Ph.D., founded Crimson Coaching LLC in 2014 to provide
families and students with the academic, organizational, and emotional tools they need to soar
through school and life. She works as a private tutor and coach for students who need
assistance with: college application and analytical writing; SAT and ACT prep; AP and regular
history, English, Spanish and French; and, time management and study skills. A classroom
teacher of Social Studies for over a decade, Dr. Padurano also now teaches History as an
adjunct professor at CUNY. Feel free to contact her directly to schedule a complimentary
consultation at info@crimsoncoaching.com.
Related Events