Slapering Hol Press to Initiate Free Online Readings Via Zoom
April 19, 2020 @ 4:00 pm

-

5:30 pm

Free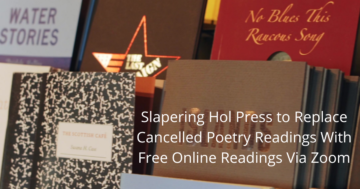 As concerns over the coronavirus amplified in early March, organizers have cancelled events and activities of all types. Poetry readings were not spared, and many poets have been left wondering when they will next have the opportunity to share their work.
Westchester-based Slapering Hol Press, the small press imprint of the Hudson Valley Writers Center, has come up with an exciting solution to the problem–an online teleconferencing alternative series that will make readings accessible to even more people. Using the Zoom platform, attending the free readings is as simple as registering for the event via an online link and then joining from a computer or Smartphone at the designated time. For those interested, Slapering Hol Press staff will offer chapbooks to the audience at a significant discount.
Slapering Hol Press co-editors, Margo Taft Stever, Peggy Ellsberg, and Jennifer Franklin recently announced the first reading to be held April 19, 2020, 4:00 pm to 5:45 pm. The annual Sanger Stewart Memorial Reading will feature Liz Marlow (2019 SHP chapbook winner), Rebecca Doverspike (2018 SHP chapbook winner), and Julie Danho (2013 SHP chapbook winner). The three poets will read their latest work and talk about their experiences as Slapering Hol press poets. RESERVE your free ticket for the April 19 reading HERE: https://www.writerscenter.org/calendar/marlowjackson/
"This will be an important opportunity for people to hear Slapering Hol Press poets while staying safe in their homes," said Margo Taft Stever. "We strongly believe that in the difficult times that we are now experiencing, there is a greater need than ever for cultural events such as these poetry readings."
"Part of the mission of Slapering Hol Press has always been to provide a platform to established and emerging poets," said Jennifer Franklin, "We are committed to serve the literary community even as we do the crucial work of flattening the curve. During these difficult and uncertain times, we believe poetry can be a solace and we are looking forward to helping people connect online until it's safe to again hold readings in person."
In related news, it was recently announced that the upcoming submission date for the 2020 Slapering Hol Press Chapbook Competition has been extended to June 15. The contest winner receives a cash honorarium of $500, a reading at the Writers Center with one of the winning poet's mentors, twenty-five free copies, and an author discount on additional copies. Many Slapering Hol Press chapbook competition winners have subsequently published full-length collections and made important contributions to the poetry community.
Liz Marlow's poems have appeared in The Carolina Quarterly, The Greensboro Review, The Rumpus, Tikkun, BODY, and elsewhere. Additionally, her work has been a finalist for Permafrost Magazine's New Alchemy Contest and a semi-finalist for the Tomaž Šalamun Prize. She received her MFA from Western Michigan University. She currently lives in Memphis, Tennessee with her husband and two children.
Rebecca Doverspike has a Masters of Divinity from Harvard Divinity School. She focused on Buddhism and interfaith hospital chaplaincy. Rebecca holds an MFA in creative nonfiction from West Virginia University. Slapering Hol Press published her chapbook, Every Present Thing a Ghost in 2019. Her poetry has appeared or is forthcoming in Ruminate, Leveler, Souvenir Lit Journal, 5×5 Literary Magazine, STATOREC, Valley Voices, and Periphery among others.
Julie Danho's first full-length collection, Those Who Keep Arriving, won the 2018 Gerald Cable Book Award from Silverfish Review Press. Her chapbook, Six Portraits, received the 2013 Slapering Hol Press Chapbook Award, and her poems have appeared in Pleiades, Alaska Quarterly Review, Blackbird, The Writer's Almanac, and New Ohio Review, among others. She has been awarded fellowships from the Rhode Island State Council on the Arts and the MacColl Johnson Fund.
Julie has an MFA from Ohio State University and works as an editor in Providence, Rhode Island. She loves art history, serial commas, and taking more books out of the library than she can possibly read. She is married to the poet David O'Connell.
Read and listen to Julie read her poem, "I want to Eat Bugs with You Underground" and three other poems from her new book on The Writer's Almanac. http://www.garrisonkeillor.com/radio/twa-the-writers-almanac-for-april-2-2020/
Upcoming Slapering Hol Press readings via Zoom
Liz Marlow, Rebecca Doverspike, and Julie Danho
April 19th, 4:00-5:45 p.m.
Get your free tickets here – https://www.writerscenter.org/calendar/marlowjackson/
Susana H. Case, Lynn McGee, and Sean Nevin
May 3rd at 4:00 p.m.
Get your free tickets here – https://www.writerscenter.org/calendar/zoomcasenevinmcgee/
Peggy Ellsberg, Jennifer Franklin, and Margo Taft Stever
Sunday June 7th at 4 p.m.
Get your free tickets here – https://www.writerscenter.org/calendar/shpeditorsreadzoom/
For more information, please contact:
Chris S. Cornell
(914) 960-1533
Chris@wowproduction.com
Details
Date:

April 19, 2020

Time:

4:00 pm - 5:30 pm

Cost:

Free

Event Categories:

Event Tags:

Website:
Organizer
Slapering Hol Press

Phone:

914.332.5953

Email:

ask@writerscenter.org

Website: