Signaling Performances: Raven Chacon, L'Rain, and Jeremy Toussaint-Baptiste with Centennial Gardens
October 22 @ 3:00 pm

-

8:00 pm

$30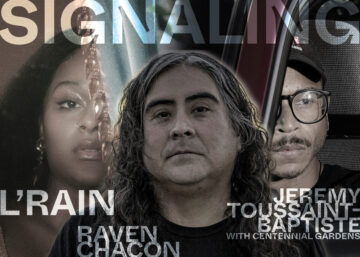 Events run from 3:00- 8:00 PM | $30 Admission RSVP
4PM – Raven Chacon Performance
KinoSaito will present the premiere of Raven Chacon's American Ledger No. 3 (2020), a composition devoted to the journalist and anti-lynching campaigner Ida B. Wells. Like many of the Pulitzer Prize-winning artist and composer's works, American Ledger No. 3 is a graphic score to be interpreted, in this case, by an ensemble of vocalists. (American Ledger No. 3 includes a flag emblazoned with the score and a newsprint publication that connects Wells's writing to contemporary police violence.)
5PM – Jeremy Toussaint-Baptiste followed by Centennial Gardens
Jeremy Toussaint-Baptiste will perform a composition for an unmarked police car that he has turned into a sound system and instrument: … and Drive Far Away (2022), his contribution to the exhibition. (The work will be installed in KinoSaito's garden throughout the exhibition; visit this page in the coming weeks for information about additional performances.) After the performance, Toussaint-Baptiste will speak about the work and his relationship to bass, Gulf Coast rap, car-audio culture, and policing.
Centennial Gardens is the duo of the New York City-based musicians Dreamcrusher and King Vision Ultra. The group's debut, SPLIT (PTP), was released in 2021. Dreamcrusher is a moniker of the musician and artist Luwayne Glass. Glass began Dreamcrusher in 2003 while living in Kansas as a means of self-discovery and release, and of addressing the experience of being queer and Black through various forms and personas, none of them static or stable. King Vision Ultra is an alias of the musician and artist GENG PTP, founder of the collective Purple Tape Pedigree, which releases music and publications as well as organizing community gatherings and actions. Since 2017, King Vision Ultra has produced music that deals with the relationship between memory, archives, self-actualization, and trauma.
6:30PM – L'Rain Performance
The musician L'Rain will perform solo and in a duo with her bandmate Ben Chapoteau-Katz. Eschewing the conventions that link genres to identities, expressions to experiences, L'Rain's music ranges from propulsive, gospel-tinged pop to dense, sample-laden abstraction; from intimate, unadorned ballads to clattering, free-jazz-influenced improvisations. L'Rain, who will be an artist in residence during the exhibition, recently released Fatigue (2021), which the New York Times described as "truly amazing" and Pitchfork called "a graceful record whose wearied landscapes of synth, air horn, strings, and saxophone distill a suite of low moods—depression, regret, and fear—into resilience and hope."
On View: Signaling curated by Alexander Provan 9/10 – 12/11
"Signaling" focuses on artists who are scrutinizing the terms through which people address and understand (or evade and misread) one another—and insisting on recognition while refusing identification. The exhibition suggests that the dichotomy between candor and posturing is false, and that purposeful communication calls for people to continually recast themselves based on the messages being crafted and audiences being cultivated. Through works in a range of media, "Signaling" emphasizes the advantages of moving between disclosure and deflection, inclusion and exclusion, especially for people whose expressions have, historically, been derided and suppressed (while also being exploited as entertainment and property).
On View: Kikuo Saito: Hatching Color 9/10 – 12/18
This show of paintings and drawings by our founding muse/abstract artist Kikuo Saito (1939-2016) have never been exhibited before. It is curated by the late artist's wife and KinoSaito President Mikiko Ino.
This event is co-presented by the magazine Triple Canopy, which is edited by Alexander Provan, the curator of "Signaling."
Related Events