Screening, Godzilla (ゴジラ, 1954)
June 9 @ 6:00 pm

-

9:00 pm

Free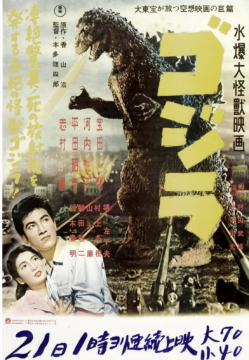 This groundbreaking kaiju film, directed and co-written by Ishirō Honda with special effects by Eiji Tsuburaya, is the debut film in the Godzilla franchise. The plot reveals the story of how Japan's authorities deal with a giant monster, whose attacks trigger fears of a nuclear holocaust during post-WWII Japan. Godzilla pioneered a form of special effects called suitmation in which a stunt performer wearing a suit interacts with miniature sets. Principal photography ran 51 days, and special effects ran 71 days. It spawned a multimedia franchise that was recognized by Guinness World Records as the longest-running film franchise in history. The character Godzilla has become a global pop culture icon, and the film is noted as one of the best monster films ever made.
Prior to the screening, guest speaker Dr. Joel Neville Anderson, Professor of Cinema Studies and Film at Purchase College, SUNY, will present a historical introduction and lead a post-screening discussion. Japanese cultural food and beverages will be served free-of-charge, but donations are highly encouraged.
This film series is funded in-part by a grant from The Japan Foundation, New York. Due to limited seating, advanced reservations are required.
Related Events