SAY NOTHING the play READING + ZOOM-A-THON
June 7 @ 3:00 pm

-

6:00 pm

FREE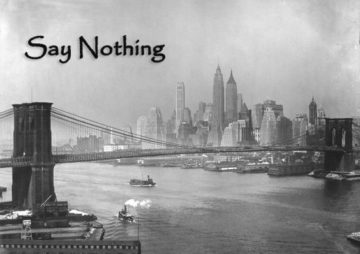 SUNDAY MATINEE virtual READING of SAY NOTHING the play on ZOOM, this Sunday, June 7 at 3:00 p.m. EST:
https://us02web.zoom.us/j/88980933845?pwd=Q0xOWjA4QmZtVlRWT2pkODNIUlFpUT09
SAY NOTHING the play is based on the multi-award-winning screenplay of the same name, co-written by Letty Serra and Jon Freda, and tells the UN-told story of Italian-American internment in WWII-era America. Co-writer Jon Freda is best known as Rocco in "The Family" and the cast features additional well-known actors such as Robert Funaro, most recently of "The Irishman". Co-produced by Jon Freda, Eren T. Gibson, Carolyn Alongi McDonough (Westchester resident).
This experimental Zoom platform reading will benefit ITALY's RED CROSS as the country continues to recover from Covid-19.
Please visit our Facebook Event page and feel free to share/like/invite: https://www.facebook.com/SayNothingReading/
This is dedicated to the citizens of Northern Italy and our American brothers and sisters of color in recognition of their suffering and struggle in 2020.
EVENT is FREE and LIMITED to 500 ATTENDEES. There will be a Q+A open to the public after the reading, shout-outs to VIPS in the audience, and a TOAST!