Music Conservatory of Westchester Presents: Movie Music with Elliott Forrest
March 20, 2020 @ 7:00 pm

-

8:30 pm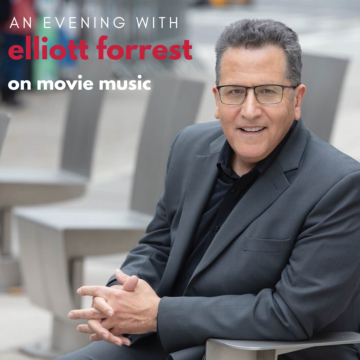 Back by audience demand! On Friday, March 20, 2020 at 7 p.m., WQXR Radio Host and Peabody Award-winning Broadcaster, Elliott Forrest, will return to the Music Conservatory of Westchester for his interactive, multi-media "Movie Music with Elliott Forrest" presentation exploring music from beloved classic films to contemporary favorite movies.
Expertise and a long-standing career as a broadcaster for WQXR, New York's Classical Music Radio Station, makes him a perfect presenter on the subject of film scores. From famous collaborations between filmmakers and composers to behind-the-scenes trivia, audiences will be amazed at Forrest's knowledge and insights. Film buffs and music lovers of all genres are sure to enjoy this cinematic ride.
Forrest will showcase more than 40 film excerpts with music by such groundbreaking composers as Bernard Herrmann (Citizen Kane, Psycho, Vertigo, Taxi Driver), John Williams (Star Wars, E.T. – The Extra Terrestrial, Schindler's List), Nino Rota (The Godfather), Ennio Morricone (The Mission, Kill Bill), Danny Elfman (Edward Scissorhands, The Nightmare Before Christmas). This event is not to be missed!
Tickets purchased online are $18 each, available at https://securepayment.link/musiced/. At the door, general admission tickets are $20. Tickets for Conservatory students and faculty, seniors are $10 at the door.