M&M Theater Series: Voices & Echoes
October 22 @ 2:00 pm

-

3:00 pm

Free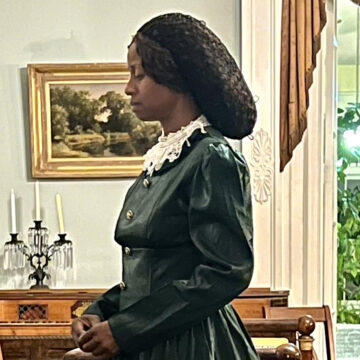 M&M Theater Series presents a co-production with Red Monkey Theater Group of a pair of original short plays by authors Amy Frey and Sharon Latimer-Mosley. These one-acts will be presented together, and examine how the race, gender, class, and freedom in late 19th and early 20th century America still shape and inform modern sensibilities and struggles.
"Thread" by Sharon Latimer-Mosley – In the wake of the Civil War Draft Riots that shook New York City in 1863, a manor house in the Bronx is the site of a long-delayed reunion between two African-American New Yorkers: a self-made dress-maker and a Navy recruiter who face crucial choices about the future they pursue – and whether it will be shared.
"Masher" by Amy Frey – Mrs. John G. Bettancourt is everything a model, upper-class Victorian woman should be: wife, mother, and hostess. But when she finds herself in a confrontation with a "masher" (a man who assaults women on the street), she suddenly needs to come to grips with the realities of the world around her and is forced to ask for help from an unexpected quarter.
No registration – First come, first served.
Our programs are supported by the Friends of the Somers Library through our patrons' generous contributions.
The Somers Library ~ (914) 232-5717 ~ www.somerslibrary.org
Related Events