Mishti – Duo Acoustic Show with Alex Nolan @ Sing Sing Kill Brewery
July 17, 2019 @ 7:30 pm

-

9:30 pm

Free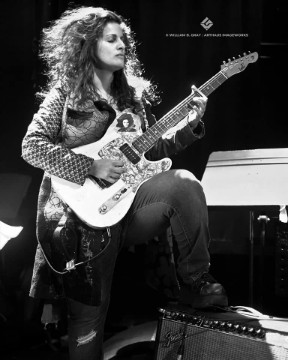 We are pleased to announce that Mishti will be performing live in the taproom on Wednesday, July 17th, for a special duo acoustic show with Alex Nolan.
Join us at 7:30pm to experience the sounds of Mishti.
There is no cover for this fabulous musical event!
— Musician Links —
http://www.mishti.com/
https://www.facebook.com/mishtimusic/
— & Bio —
MISHTI, a singer-songwriter-guitarist with the lyricism of Jeff Buckley and the badassness of Slash demands the ear of any listener with her fresh take on post-pop rock music. The New York-based artist's latest singles, "Weight of My Heart" and "Obsessed" are fun, sexy, dark anthems to taboo love, unapologetic flirting and crushing hard. Continually shaped by idols Prince and Kate Bush, Mishti has carved out her own sound distinguished by vocals that soar to the rafters and guitar solos that bring back the guitar solo.
Born in Tokyo, Mishti was raised in both Hong Kong and New Delhi before making herself at home in Westchester, New York. Inspired by a hearty obsession with Michael Jackson, she set her sights on becoming a rock star tackling not only vocals and guitar, but songwriting as well. Mishti's early appetite for pop and rock & roll remained steadfast as she explored the tunes of various cultures, even happily landing herself in a Klezmer (Jewish music of Eastern Europe) band during her college years. With such a rich, cultural upbringing and array of sonic influence, Mishti has been able to create music that provides listeners a multifaceted experience.
Though Mishti has performed throughout New York on stages including Rockwood Music Hall and Daryl's House, one of her most treasured appearances was as a featured artist in Toshi Reagon's annual show, "Word*Rock* & Sword". "Everyone there, audience, band and staff, are there to connect, emote and like become better people, so it's a very inspired vibe" recalls Mishti. In 2018, Toshi invited Mishti once again to share the stage with a star-studded lineup of women musicians at the esteemed Joe's Pub.
While finishing touches of her debut EP (produced by Cyndi Lauper's guitarist Alex Nolan) are fine-tuned, Mishti continues to write songs for the unrequited and fantasize the next performance: "I want to create music that transforms people's moods the same way music I love transforms mine… and changes my life in those 4 minutes… and then 'replay'."