Learn the art of making Pinsa with Papi'!
February 25 @ 6:30 pm
$25.00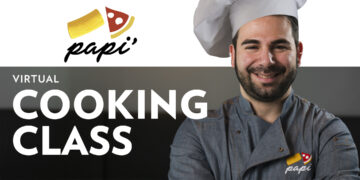 Thursday, February 25, 2021 at 6:30 PM
Learn how the art of making Pinsa, the Romana-style of dough-making! Pinsa offers a crispy texture on the outside, yet it is soft and flavorful inside. Learn why it's healthier than traditional pizzeria-style pizza while you whip up a pinsa at home
$25 per person
+$5 to add a "glass" of wine—Prosecco, Lambrusco, Pinot Grigio, Rosé—to enjoy while you cook!
Includes the recipe kit with all main ingredients, recipe, and access to the Zoom. Kits can be picked up the day of between 12:00 PM and 6:00 PM.
https://www.eventbrite.com/e/papi-virtual-cooking-class-the-art-of-pinsa-making-tickets-137448485119