Justice Talks: Attica Prison Uprising 50th Anniversary
July 21 @ 6:00 pm

-

7:00 pm

Free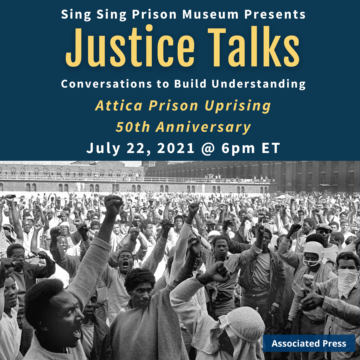 he Attica Prison Uprising in 1971 was a significant event in the Prisoner's Rights Movement that produced major changes in New York's corrections system. Based on the incarcerated men's demands for better living conditions and political rights, the 4 days of rebellion are pivotal in contemporary conversations about prison reform. In this program we examine racial justice activism, civil rights, and the significance of the 50th Anniversary.
Featuring:
Dr. Heather Ann Thompson is a historian at the University of Michigan, and is the Pulitzer Prize and Bancroft Prize-winning author of Blood in the Water: The Attica Prison Uprising of 1971 and Its Legacy (Pantheon Books, 2016).
David Rothenberg is the founder of The Fortune Society, one of the nation's leading reentry service organizations, serving nearly 7,000 individuals annually. He is also a leading advocate for criminal justice reform and alternatives to incarceration. During the uprising, he was a member of the Attica Observers Committee.
Tyrone Larkins is a survivor of Attica Prison and was present at the uprising.