June Book Club
June 15 @ 7:00 pm

-

8:00 pm

Free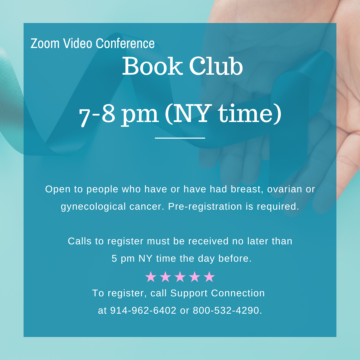 Open to people who have or have had breast, ovarian or any gynecological cancer. Pre-registration is required no later than 5pm (NY time) on Wednesday, June 15. To learn more or to pre-register, call Support Connection: 914-962-6402 or 800-532-4290.
At the June Book Club, we will discuss American Dirt by Jeannine Cummins.
Lydia Quixano Perez runs a bookstore in the Mexican City of Acapulco until one violent day changes everything. Forced to flee, Lydia and eight-year-old Luca soon find themselves miles and worlds away from their comfortable middle-class existence. Instantly transformed into migrants, Lydia and Luca ride la bestia―trains that make their way north toward the United States, which is the only place they might feel safe. As they join the countless people trying to reach el norte, Lydia soon sees that everyone is running from something. But what exactly are they running to?
"I strive to write page-turners because I love to read them, and it's been a long time since I turned pages as fast as I did with American Dirt." – John Grisham
"American Dirt is an extraordinary piece of work, a perfect balancing act with terror on one side and love on the other. I defy anyone to read the first seven pages of this book and not finish it." – Stephen King
Discussion leaders: Fran Contino and a Support Connection Peer Counselor.
We are always looking for good book suggestions. Please send suggested titles to robin.perlmutter@supportconnection.org.