June 13 Tarrytown Music Hall Presents Jann Klose In Person and OnLine
June 13 @ 7:00 pm

-

8:30 pm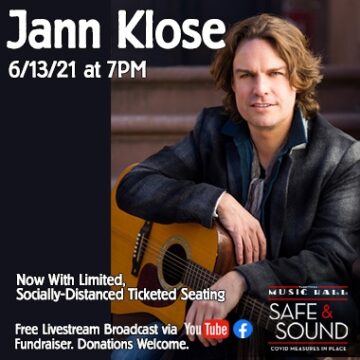 Jann Klose will be performing live from Tarrytown Music Hall on June 13, at 7 PM.
This concert will be both in person and online via Facebook and YouTube.
In-person seating is limited. Please register in advance at https://tickets.tarrytownmusichall.org/Night-InWithJannKlose.
Fans and friends are encouraged to support the artist and event with a donation at the same link.
JANN KLOSE's has opened for both Pat Benatar and Rusted Root at the Music Hall. He is an award-winning pop singer-songwriter, who has released six albums and two EPs. He was raised in Kenya, South Africa, Germany and the United States. His latest single "Love You the Most/Te Amaré Más" (from the movie soundtrack "Married Young" (Amazon)) and has streamed over 3 million times, and is climbing the Top 40 radio charts. Jann is an ambassador for Desmond Tutu's TutuDesk campaign and Brick by Brick Uganda. He is the singing voice of Tim Buckley in the movie "Greetings from Tim Buckley" (Universal).
Singers love working with Jann. Signed to South Africa's legendary Gallo Records, his most recent album, "In Tandem" includes duets with some of South Africa's leading pop-singer-songwriters including coaches from that country's "The Voice." He's toured there since 2015, first as an independent artist. Recently, Jann duetted with Liz Callaway on her recent "Comfort and Joy – An Acoustic Christmas" album.
His songs have been heard on the Grammy®-nominated "Healthy Food For Thought" compilation, and charted in the Billboard Top 10 compilation "Action Moves People United." The multiple Independent Music Award winner has songs appearing on MTV Cribs and movies "Dead Broke" (Warner Bros) featuring Paul Sorvino and "One Little Finger" alongside Quincy Jones, Siedah Garrett and Julian Lennon. He has performed as an actor and singer in touring companies of Broadway musicals, including "Jesus Christ Superstar," "Jekyll and Hyde," and "The Who's Tommy" as well as made for TV movies, voice overs and commercials.
Jann tours year-round in North America, Europe, Africa and Asia and has opened for and collaborated with a wide range of artists including Pat Benatar, John Oates of Hall and Oates, Suzanne Vega, Renaissance's Annie Haslam, The Yardbirds and Jim McCarty, Rosanne Cash, Paula Cole, Brett Dennen, Karen Zoid, Shekhinah, Robyn Hitchcock, Carrie Newcomer, Alicia Madison, The Byrds' Roger McGuinn, Gary Lucas, Jeffrey Gaines, Elliott Murphy, Rusted Root, Pete Seeger and Les Paul.