Judaism and Organ Donation Symposium (online)
May 24 @ 7:30 pm

-

9:00 pm

Free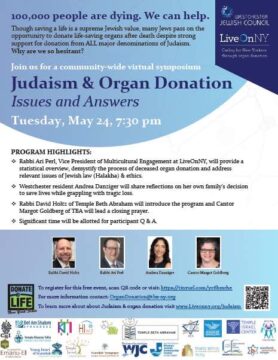 100,000 people are drying. We can help.
Though saving a life is a supreme Jewish value, many Jews pass on the opportunity to donate life-saving organs after death despite strong support for donation from ALL major denominations of Judaism. Why are we so hesitant?
Join Temple Beth Abraham and LiveOnNY as they host a community-wide virtual symposium: "Judaism and Organ Donation: Issues and Answers."
• Rabbi Ari Perl, Vice President of Multicultural Engagement at LiveOnNY, will provide a statistical overview, demystify the process of deceased organ
donation, and address relevant issues of Jewish law (Halakha) & ethics.
• Westchester resident Andrea Danziger will share reflections on her own family's decision to save lives while grappling with tragic loss.
• Rabbi David Holtz of Temple Beth Abraham will introduce the program and Cantor Margot Goldberg of TBA will lead a closing prayer.
• Significant time will be allotted for participant Q&A.
To register for this free event, visit: tinyurl.com/yc6bmrhe
For more information contact: OrganDonation@tba-ny.org
To learn more about Judaism and organ donation, visit www.liveonny.org/judaism/
Cosponsored by: Bet Am Shalom Synagogue, Congregation Anshe Sholom, Congregation KTI (Congregation Kneses Tifereth Israel), Congregation Sons of Israel, Fleetwood Synagogue, Greenburgh Hebrew Center, Harold and Elaine Shames JCC on the Hudson, Hebrew Congregation of Somers, Hebrew Institute of White Plains, Scarsdale Synagogue Temples Tremont and Emanu-El, Temple Beth El of Northern Westchester, Temple Beth Shalom (Mahopac), Temple Israel Center, Temple Israel of Northern Westchester, Temple Shaaray Tefila, Westchester Day School, Westchester Jewish Center, Westchester Jewish Council, Woodlands Community Temple, and Young Israel of Scarsdale
Related Events