Hydration Pop Up: A self-care pop up event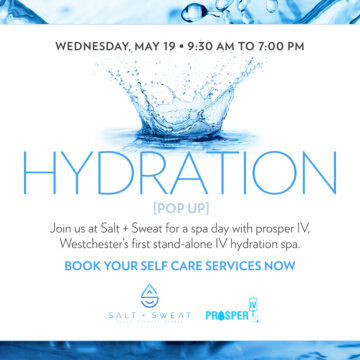 Last month's pop-up at Salt + Sweat was such a success, we're teaming up again this month! Join us in Rye Brook May 19 to drip with prosper IV, Westchester's first stand-alone IV hydration spa. The spa's IV vitamin infusion treatments deliver hydration and provide you with vitamins, minerals, and amino acids for health and healing, as well as immunity support.
Available drips during the pop up include:
• The Inflammation ($199): special ingredient phosphatidylcholine along with other vitamins to reduce inflammation and pain to get you back on your feet
• The Quench ($149): super B complex, magnesium, zinc, manganese, copper, and selenium to reset your body's immune system and liver detox at the same time
• The Immunity ($169): the highest dose of vitamin C & selenium to beat the cold or flu with increased immune support
• The prosper IV ($169): high levels of vitamin C, Zinc & B12 to restore balance and harmony to your mind, body, and soul
Get ready for summer! The Salt + Sweat wellness studio is also open for your Infrared Sauna or Wrap Treatment, Body Sculpting, X-Cryo, and Massage in our beautiful salt room.
Drips usually take 30 minutes to an hour. Please make sure to bake in enough time for you to relax while you receive your IV treatment!
To book your IV drip for the pop-up or more information about prosper IV, visit www.TheProsperIV.com
To book your Salt + Sweat service or more information about our wellness studio, visit www.saltandsweat.com.